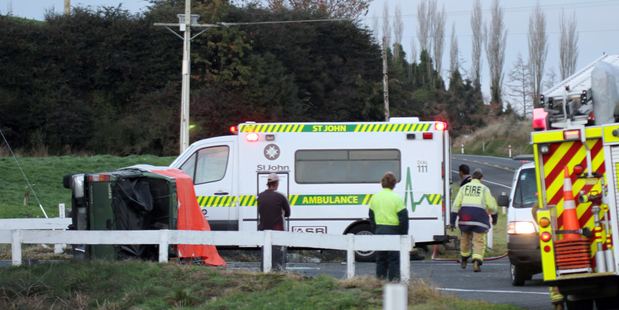 Police are trying to establish why a driver tried to make a u-turn directly in front of following traffic near Rotorua this morning.
The woman died in the resulting crash with a following vehicle, police said.
The deceased woman and her husband had been travelling north on State Highway 30 when the crash occurred near Whirinaki Valley Rd about 7am.
Bay of Plenty road policing manager Inspector Kevin Taylor said the woman died at the scene and her husband, who was badly shaken, was taken to hospital with minor injuries.
"Three vehicles were travelling in the same direction towards Rotorua, with the car the deceased person was driving at the front. They've pulled over to the left hand side of the road - why, we're not sure yet - and the vehicles behind have gone to drive past.
"For whatever reason she's then done a right hand turn or a u-turn in front of the following vehicles and been hit by one of them.''
Mr Taylor said driving conditions had been good at the time and it was unclear what the driver was trying to do.
"Visibility was not an issue and it was a straight stretch of road so it's not like another car has come over a hill or around a bend or out of a side-road or something.''
Police were in the process of interviewing the occupants of the two following vehicles, who were uninjured.
- APNZ