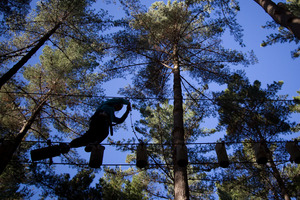 The adventure park where an Auckland man fell to his death has reopened - but no one will say what steps have been taken to ensure public safety.
Tree Adventures, a high-ropes adventure course in Woodhill Forest, north of Auckland, began taking new bookings on April 13 after a prohibition notice imposed by the Government's labour service was lifted.
The notice forbidding it from operating came after the death on March 3 of 57-year-old Clifford Brabet, who plummeted 14m when he stepped from a platform while he was on a team-building course.
But the decision to reopen was made by the company, not the Ministry of Business Innovation and Employment, which told customers via its website that a review of safety equipment had been completed, and staff had been allowed time to "fully process this tragic incident".
After Mr Brabet's death, the ministry issued the notice and began a separate investigation into the accident.
That investigation is ongoing and could take six months to complete.
Ministry spokesman Britton Broun said he could not go into detail about what aspects of Tree Adventures investigators had problems with because to do so "could interfere with the investigation into the death".
However, they were satisfied with the company's response to the prohibition notice.
"They have met the conditions of the notice, so they rectified the issues and as a result on the 22nd of March we lifted the prohibition notice," he said.
Tree Adventures director Jimmy Moore did not respond to questions about what changes had been implemented other than to say the company was co-operating with the ministry investigation.
The statement on its website said "all practicable steps" had been taken during the closure to "further strengthen and improve our safety systems".
After Mr Brabet's death, his widow, Liz, told the Herald that she was angry with criticism of the company and its safety procedures.
"People have been talking about how poor the training was, but it was very good.
"They took us out and showed us how to use the different parts of the apparatus."
She said Tree Adventures staff she and her husband spoke to on the day had clearly told them how to use their equipment. "I couldn't have asked for more."