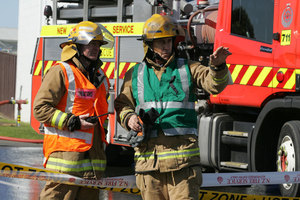 A Taumarunui man has been charged with arson over two fires on a rural Kakahi property last week.
The first fire happened about 10.50pm last Tuesday at a house on Whakapapa Road in Kakahi, about 20km south east of Taumarunui.
A shed on the same property was set alight about 90 minutes later.
Four people fled the burning house safely but both the house and the shed were destroyed.
Police arrested a 47-year-old Kakahi man on Thursday after receiving information from the public about the arsons.
The man has been charged with two counts of arson and one count of assault.
He has been remanded in custody at Waikeria Prison for a psychological assessment will reappear in the Taumarunui District Court in the next few weeks.
"I want to thank the community for their support in helping us identify and locate the offender. Your help is invaluable in preventing crime in our community," said senior sergeant Grant Alabaster.
- nzherald.co.nz