The Auckland Westpac Rescue Helicopter performs more than 500 rescue missions each year, but a proposed 25 per cent funding cut could reduce the service's ability to attend emergencies. On Saturday the Herald spent a day with a rescue crew to find out exactly what they do and watched them save lives.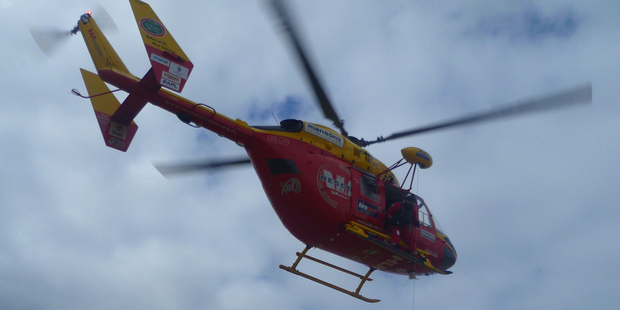 Martin lies in agony, his clavicle broken and three fingers mangled beyond recognition. He has no idea what is about to happen. Drill-wielding St John intensive care specialist Shand Park is about to bore into Martin's leg in a last-ditch attempt to get a line into his body to administer some pain relief.
Earlier attempts to get a line in failed. So drilling down into his leg through to his bone marrow is now the only way to help him.
Martin's screams of pain intensify as Shand, watched closely by Helicopter Emergency Medical Service doctor Andrew "Petro" Petrosoniak, starts the procedure.
"Bro, are you drilling into my f***ing leg?" Martin shouts. He swears, he jerks and he demands they stop. They hold their ground, steady him and carry on piercing through skin and bone as he wails in pain.
Seconds later the line is in, the powerful painkiller ketamine is administered and Martin is professing his love for the crew.
For an onlooker, the scene is dramatic and tense - but for Shand and Petro, it's standard.
The pair are nearing the end of an 11-hour shift on the Auckland Westpac Rescue Helicopter when they are called to treat Martin. He crashed his motorbike just north of Thames and suffered serious injuries.
When their pagers go off, the crew have just landed at Waikato Hospital in Hamilton with a patient.
With pilot Paul Robinson and crewman Ati Wynyard, they had transported 67-year-old John from the Coromandel after he suffered a suspected stroke.
John had been watching television when his arm went numb. When he tried to stand his leg gave way and his worried wife called 111. His condition improved on the 30-minute flight to Hamilton but there was no way John, despite his assurances that he was feeling much better, was going home without a CAT scan and further treatment.
Shand and Petro leave him with emergency department staff and jump back into the chopper to head to the next job.
There are two choppers available for emergencies - Westpac Rescue 1 and 2 - and they are staffed full-time and ready for operation 24 hours a day, seven days a week, 365 days a year.
The service has been running for 40 years and performs more than 500 rescues each year. They cover the greater Auckland region, with a population of more than 1.4 million, from Te Hana, north of Wellsford, to Meremere in Waikato. The Coromandel and Gulf islands are also on their patch.
On Saturday, Paul, Ati, Shand and Petro started work at 7am, but were not called to action until after 3pm. For them it was a slow day, but there was still plenty to do.
A shift starts with a range of pre-flight checks. It is Paul's responsibility as the duty pilot to thoroughly check the chopper from nose to tail, and ensure every nut, bolt and gauge is in place and in tip-top condition.
"We need to check these things quite carefully, because we can't pull over and check on the side of the road once we get going," he explains.
Then, after a quick breakfast, it's time for the morning briefing. If there is a callout, at any time of the night or day, these guys will drop everything and go.
Once the alarm in the hangar goes, they are off the ground in minutes, and if that means leaving half-eaten porridge or walking out of a meeting, so be it. Lives are at stake when that alarm sounds, and there's not a second to spare.
Mid-meeting, and just after it's decided that training exercises will be run, the first call of the day comes.
It is a transfer of a newborn baby from the Starship hospital to Whangarei Hospital at 12pm. One crew will go on that job leaving the other to man the hangar.
The next hour is spent preparing. The medics check their gear, there's paperwork to be done and flight simulation training to be logged for the pilots. Each flight in the simulator counts as flying hours, and they can be set up to challenge skills in different weather and flying conditions, supervised by another pilot.
Once Paul has overseen fellow pilot Dave Whalley performing an instrument-only flight and landing, it's off to help some of the medics with their training.
Today it's winching, a manoeuvre that Shand and another medic, Bruce, have not done in a while. We jump aboard Westpac Rescue 1 and take a short flight to Browns Island in the Hauraki Gulf where the team do a lot of their training and practice runs.
I'm offloaded with the medics, and their stretcher carrying a dummy patient weighing around 80kg. As the gusts created by the chopper's blades send the long dry grass whipping in my direction, I watch from a crouching position as Paul and Ati run through the winching process with the pair. I've seen it done countless times on television rescue shows, but from that angle the strength and skill needed for a successful winch is clear. It's no mean feat.
After a debrief on the winch training, rescue activity comes to a standstill.
The day before, the team spent most of the day jumping on and off the chopper racing to jobs, but today it's a different story. While they enjoy the downtime and acknowledge that their being at the hangar means no one needs their help - they are also itching to get out and do their jobs. They are all passionate about what they do and the banter around the hangar while they wait for the next job is mostly about what they do and why they do it.
They also speak a lot about their families, whom I doubt they see much of when they are working stints of 12 hours-plus for days in a row, all to help other Kiwis get home alive.
The quiet spell is broken by a barbecue for supporters of the Auckland Rescue Helicopter Trust, the fundraising arm of the operation. Some of the major sponsors are invited down to the hangar to meet the crews and take a short six-minute flight across the city.
Trust fundraising manager John Hooper says he's happy to spend $100 or so on fuel to take sponsors for a spin around the Sky Tower if it means keeping their support for another year.
And by the looks on their faces when they get back from their ride, most will be more than happy to keep contributing financially to the cause.
Moments after Paul heads out on his seventh sponsor-filled flight, the hangar comes alive with the sound of the alarm. In seconds the team are waiting to go at the edge of the helipad.
As we take off the crew in the second chopper are also deployed, to a near-drowning at Whangamata. That's often the way it happens - no calls for hours and then "all hell breaks loose".
Twenty minutes later we're landing at the Coromandel Aero Club, where an ambulance is waiting for us with suspected stroke patient John.
After assessing John's condition it's decided that he needs to be transported to Hamilton for a full checkup.
The chopper has just touched down on the hospital's helipad when pagers start to go off. As Shand and Petro take John inside they find out that they are needed asap at a motorbike accident. They are anxious to get there, but John is still their priority and they stay with him until he's comfortable and all his paperwork is with the right people. Then, we're off again.
About 25 minutes later we land at a makeshift helipad next to the beach at Tapu, near Thames. Martin came off his bike just up the road and is in the back of the ambulance.
Martin's left hand is bandaged, but still bleeding and he's in a lot of pain. It's likely he will lose three of his fingers, which were all but severed in the crash, reckons the local St John advanced paramedic.
He's a vocal patient, quick to let Shand and Petro know in no uncertain terms what's causing him pain. Ati works hard to calm the man, trying to get him to stay still and settle down, but he cries, curses and struggles with the pain for most of the flight to Hamilton.
When we touch down Martin, with his pants cut open and the drip still bored into his shin bone, is rushed inside for treatment and as he's wheeled away he apologises to the crew for his language and thanks them for their help.
None of them are fazed.
"It's all part of the job," Petro says.
"Yeah, this is just a quiet day," Ati adds.
By now, the crew have worked two hours over their shift. But as they fly back towards Auckland with a stunning view of the sun setting over the Waikato and two lives saved - no one is complaining.
Rescues at risk
A proposed funding cut could mean the Auckland Westpac Rescue Helicopter will be available for fewer hours and with reduced capability.
The Auckland Regional Amenities Funding Board's draft funding plan 2013-14 proposes cutting 25 per cent of ratepayer funding to the service, which would force the Auckland Rescue Helicopter Trust to rely more on donations from the public.
"If it goes ahead the rescue helicopter will be allocated $900,000 of ratepayer funding for 2013-14 to run the two-helicopter service required to meet current demand," said trust chairman Murray Bolton.
"This does not provide adequate sustainable funding."
Last month Mr Bolton told the Herald the proposal was "ridiculous", and the board's explanation that the trust could raise money elsewhere was unrealistic.