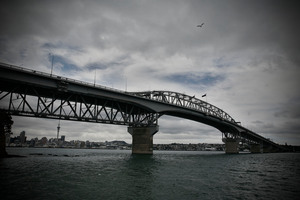 Police hope the large colourful emblem on the front of an Adidas T-shirt will help identify a man whose body was found floating in Auckland harbour.
Detective Sergeant Scott Hunter said the shirt the man was wearing would hopefully be recognised by someone who knew the man, who is thought to be in his 20s.
He was found by a group of wakeboarders in the water near the harbour bridge about 10.50am on Saturday.
Police have described him as being Asian and of thin build.
Mr Hunter said officers would consider a computerised sketch of the man if appeals for information are unsuccessful.
The emblem is a red, yellow and green logo.
The man was also wearing a single chain necklace with a ring on it around his neck.
No one fitting the man's description has been reported missing.
It is believed the man drowned but police are still investigating where he entered the water.
He is not thought to have been in the water for more than a few hours before he was found.
Anyone with information should call 027 436 7561 or email jessica.phuang@police.govt.nz.
- APNZ