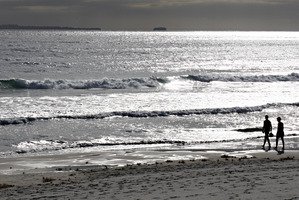 Feeling the waves crash over his body, Wi Paratene Turuwhenua was about to give up his fight when he felt the arms of two surfers pull him above the white-wash.
The 21-year-old, better known as Tui, was swimming at Tay St, Tauranga about 3.30pm yesterday when he got into trouble.
He was standing in chest-deep water with four of his friends when they were knocked over by a large wave and sucked out to sea by a rip.
"We were just trying to swim back in but the waves were big and they kept coming over me and I remember I was being pulled out," Mr Turuwhenua told the Bay of Plenty Times from the shore.
"I watched the land get further and further away ... and that was when I decided to put my hand up [for help].
"I was scared. I thought I was going to go. I was ready to give up when a couple of surfers came by on their boards and right then I knew I was saved."
Mr Turuwhenua was held above the waves by the two surfers before the Mount Maunganui Lifeguard Service IRB (inflatable rescue boat) picked him up and took him to shore.
"I was just trying to stay afloat, keep my head above the water but I had no energy."
Mount Maunganui Lifeguard Service patrol captain James Roy said Mr Turuwhenua was about 200m offshore when he was picked up by the surfers.
Mr Roy said he was exhausted but otherwise okay.
Mr Turuwhenua's four friends made it back to shore without assistance.
The Mount Maunganui lifeguards patrol Tay St on 45-minute intervals in the IRB or quad bike, giving advice to beach-goers about safe areas to swim.
"That area is not watched by lifeguards all the time so when we're down there we try and talk to people about safe places to swim," Mr Roy said.
About 15 minutes after the ordeal, Mr Turuwhenua stood at the base of the dunes and looked out at the wild water.
"I'm afraid of the water now but the best thing to do is to go back in and overcome it," he said.
"Maybe I'll just go waist-deep now."
He would like to thank the surfers who helped keep him afloat and the lifeguards who got him into the IRB and took him to shore.
"I would like to thank them from the bottom of my heart. Without them I wouldn't be here, I truly believe that. I was ready to give up.
"This experience has made me want to become one of them [a lifeguard] and I want to learn more about the water and rips and all that."
His message to swimmers: "Be careful when you're swimming. I could easily have been another statistic so I'm really happy to be alive."
Mount Maunganui lifeguards also rescued two people off Main Beach yesterday.
Meanwhile, 37 people were pulled from the water at Papamoa last week and four others needed to be rescued when they got into difficulty off Main Mount Beach on Sunday.
Senior Sergeant Nigel Ramsden said police had been kept busy with water rescues during the last few days.
He said police and the Coastguard were called to help a man who had been swept around the side of Mount Maunganui about 9pm last night but were stood down soon after when he managed to make his way to shore.
Mr Ramsden said the man was a very strong swimmer so it was a warning to others to take care.
"The big swell is causing a significant danger to swimmers and boaties with a number of rescues reported," he said. "There are rips all along the beach because of the swell."
Mr Ramsden urged swimmers to take extra care and make sure they swam where there were other people around.
Do you know who the two surfers were who saved Mr Turuwhenua? Contact the newsroom on 0800 253 253
For more articles from this region, go to Bay of Plenty Times