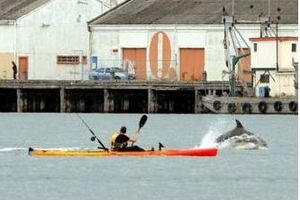 Fishing was the last thing on kayaker Paul Hannah's mind when he realised he was accompanied by a pod of bottlenose dolphins in Otago Harbour yesterday morning.
The pod of about 50 to 60 dolphins appeared to be hunting for salmon and spent the day milling about the harbour travelling from the wharves to the Andersons Bay causeway, University of Otago graduate student Tom Brough said.
He had just completed surveying the bottlenose dolphins around Stewart Island last week and had identified four seen there in the pod in Otago Harbour.
"They've done about 150 miles in just over a week."
Researchers could identify the dolphins by their dorsal fins and had done what was thought to be the first scientific photographic survey of those in Otago Harbour for future reference. Most scientific research on the dolphins had been done on the resident Fiordland populations in Dusky and Doubtful Sounds.
Mr Hannah said it was the first time in 12 years of kayaking the harbour and coast that he had seen dolphins, so he gave up on the idea of fishing.
"It was very exciting to see them up close. I was amazed at the size of them."
He had a few moments of pause when a dolphin breached beside him but they seemed more interested in feeding, he said.
"It was pretty lucky," he said.
"It certainly made it hard to come back to work."
The University of Otago, Portobello marine centre and the Department of Conservation all received calls from people who had seen the dolphins.
Doc marine ranger Jim Fyfe said it was not uncommon for groups of bottlenose dolphins to visit Otago Harbour in summer.
In past years they had been regular visitors and one year a pod stayed a week and even calved in the harbour.
Not much was known about where the dolphins were transiting to or from, he said.
Jet skiers and boaties were reminded to travel no faster than idle or "no wake" speed within 300m of any marine mammal.