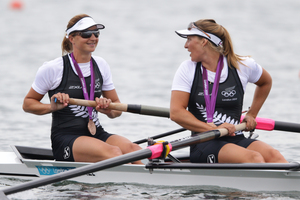 Despite New Zealand going to sleep just as the Olympics in London swing into action each day, the time difference is not stopping Kiwis from tuning in.
Prime is the only free-to-air channel showing the Olympics this year but pay-TV network Sky has eight channels dedicated solely to Games coverage.
During the opening ceremony on Saturday morning (NZT), Prime had a 292 per cent increase in viewers compared with the average for the four previous weeks.
And the figures have continued to rise. On Tuesday - the latest day figures are available for - Prime viewership was up 333 per cent on its average.
Prime's target demographic is people aged 25 to 54, and it is this group that is clearly tuning into the games.
On Saturday there was a 420 per cent increase in viewers within that age bracket compared with the average for the four previous weeks.
Viewership figures could not be broken down to specific events.
A spokeswoman for Sky TV said viewership figures could not be provided because it was not in the public domain.
The opening ceremony, staged by Oscar-winning director Danny Boyle was watched by 22.4 million British TV viewers, 40.7 million in the US and almost 3 million in Australia.
- APNZ