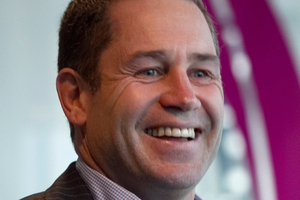 Multi-millionaire Marc Ellis is loving working in radio, but says he might not stay with More FM much longer.
The former All Black and TV personality has helped More FM pick up 15,000 listeners in Auckland to move ahead of rivals Classic Hits.
But with a young family and business interests outside of broadcasting, Ellis says he isn't sure how long he will remain with More FM.
"As to whether it's a career move or not, I don't know. Watch this space. I have always treated any media stuff as a secondary job."
Ellis said he and co-hosts Amber Peebles and Stu Tolan had been given a long leash by their RadioWorks bosses.
In the twice-annual radio survey results, released this week, More FM rose to 99,000 people in Auckland, compared with 83,000 six months ago.
The departure of Paul Henry from Radio Live was a factor in it losing around 3000 listeners.
Its rival Newstalk ZB piled on around 15,000 listeners and is the most popular station in the country.