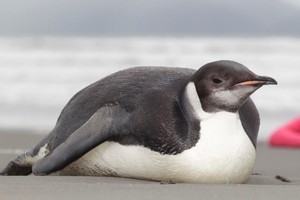 About 300 grams of sand, rocks and liquid were flushed out of the stomach of the emperor penguin called Happy Feet.
The procedure was the fourth for the penguin since arriving unexpectedly on Peke Peka Beach, north of Wellington, early last week.
The Antarctic native had the stomach flushing this morning at Wellington Zoo and is now recuperating in its temperature-controlled room, the Stuff website reported.
Wellington Zoo veterinary manager Lisa Argilla said she would wait for x-ray results before deciding if Happy Feet needed another stomach flush.
Happy Feet was digesting its fish milkshakes, which was a good sign, she said.
Surgery could still be on the cards if the penguin's health worsened, but hopefully that could be avoided, she said.
Argilla said invasive surgery could still be in the cards if the penguin's health deteriorated, but she wants to avoid it at any cost due to the greater chance of death.
"There are heaps of other complications associated with surgery as well."
If Happy Feet, who's sex is still unknown, recovers fully, the penguin is set to be released into the Southern Ocean to fend for itself, rather than transporting it to Antarctica.
Businessman Gareth Morgan has offered to sail the penguin back to its home 3200km away on a Russian icebreaker ship making an expedition to the Ross Sea in Antarctica in February.
Yesterday, he also launched a campaign to raise funds for food and help with care costs - for every dollar donated, he would match it.
It is only the second emperor penguin known to have landed in New Zealand. The first one was found at Southland's Oreti Beach in 1967.
- NZPA