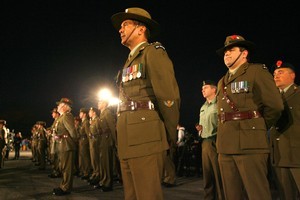 The way in which the Defence Force has dumped 308 military staff has been met with condemnation, with one union calling it an outrageous abuse of power.
The force today announced the first in a series of cuts intended to remove 1000 uniformed personnel and replace them with 500 civilian staff. A similar exercise was expected later in the year.
Some 280 positions have so far been identified as suitable for civilians, with the laid off military personnel being encouraged to apply.
Public Service Association national secretary Brenda Pilott said asking staff to reapply for jobs on the open market added insult to injury.
"Morale is at rock bottom in the public service and change management processes of this nature only make that worse," she said.
Council of Trade Unions president Helen Kelly said there had been special constitutional reasons why military staff were not covered by employment law and the restructuring was an outrageous abuse of power.
"It's fine for the Defence Force to restructure, but to then make these workers apply for their own jobs on the open market is simply orchestrating what would be an unfair dismissal in any other normal business, and these men and women deserve more respect than that," she said.
Ms Kelly called on the Government to step in and demand the axed staff be given priority for the civilian positions.
Green Party defence spokesman Keith Locke said the force seemed to be treating the cuts as a "normal layoff situation" when the circumstances were quite different.
People who joined the force gave up their right to collectively bargain for wages and conditions, and committed themselves to stay for a fixed time, he said.
A spokesman for acting Defence Minister Jonathan Coleman would not comment, saying it was an operational matter for the force.
But Defence Minister Wayne Mapp last week said the civilianisation process would allow the force to get "more work out of fewer people".
"One of the advantages of civilianisation is that you actually need fewer people to do the work, simply because they're able to stay in the jobs for longer periods of time and you don't have to take people out to do all sorts of military tasks."
Dr Mapp told a parliamentary select committee he would have preferred straight transfers from military to civilian roles, but that was not possible under the Defence Act.
Force chief Lieutenant General Rhys Jones said the decisions affected less than 5 per cent of total military personnel and more than 9300 military staff were still available for operational requirements.
The force had determined which roles could be performed by civilians and the numbers of military personnel needed across its ranks, trades, and branches.
The cuts include 81 officers and 227 staff in other ranks, with 71 of 2119 from the navy, 155 of 4920 from the army and 82 of 2579 from the air force.
Lt Gen Jones said the force had a "robust support and retraining process in place on each camp and base to help these people make the transition from military to civilian life".
He told a parliamentary select committee last week there had been a dip in morale in the force over the past six months, particularly in the areas most likely to be affected.
Assistant chief of personnel Commodore Kevin Keat today said the job cuts would save $23 million in total because they would no longer have to pay the staffs' uniform allowance, accommodation assistance and health and dental care.
- NZPA