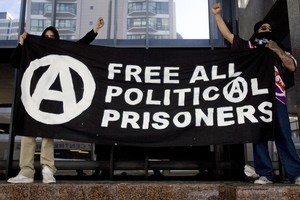 A Wellington underground art auction raised more than $6500 for the 18 people awaiting trial in connection with the 2007 Urewera police raids.
The auction was hosted by the Concerned Citizens Collective, a group of more than 60 artists and musicians, and was fronted by veteran activist John Minto.
"Even though we were only able to promote the online bidding in the last day of the auction, we had a remarkable number of internet buyers," co-organiser of the art auction Ben Knight said.
The online bidders competed with people who were present at the art exhibition, Mr Knight said.
- NZPA