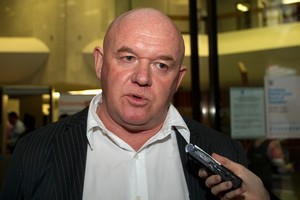 Boobs on Bikes organiser Steve Crow had his application to be discharged without conviction for allegedly breaching a ban on managing companies thrown out in Auckland District Court today.
The porn industry heavyweight has pleaded not guilty to the charge, laid by the Ministry of Economic Development, after he allegedly acted as a manager for the 2010 Boobs on Bikes event after the four-year-ban was imposed following the collapse of companies linked to him.
He agreed to plead guilty should the judge indicate he would discharge him without conviction.
Representing himself, Crow said the legal action against him was part of an ongoing campaign to stop Boobs on Bikes - a motorcycle parade featuring topless women.
Crow said he had not acted as a manager or director for the event, but merely helped to organise it.
"Boobs on Bikes is not a business, it is a freedom of expression ride. This court has previous accepted my assertion that freedom of expression was my primary reason for creating Boobs on Bikes."
Crow argued the Crown had opposed the discharge without conviction based on an incorrect record of his criminal history, which said he had been convicted of firearms offences in 2008 when in fact he was discharged without conviction.
Ministry of Economic Development lawyer Simon Waalkens said Crow had co-signed an application to hold Boobs on Bikes on which he had included the name of his company, Eden Digital.
Judge Russell Johnson said it did appear that Boobs on Bikes had a business purpose and may serve to promote Crow's company and its upcoming event, the Erotica Expo.
Judge Johnson indicated he would impose a fine should Crow plead guilty, but Crow said he wished to have a defended hearing.
This has been scheduled for September 12 and expected to take three days.
- NZPA