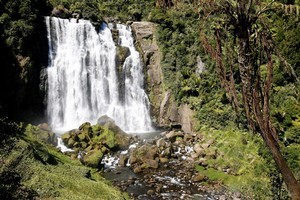 A set of "absolutely disgusting" toilets at the entrance to one of New Zealand's best short walks has drawn complaints that they are a blight on tourism.
The Waitomo Walkway in the Waikato has featured in the Rough Guide to New Zealand and is a popular walk - but at its entrance stands a dark green toilet facility littered with bottles and what appears to be bags of faeces.
"I hope it's the only one like that in New Zealand," said Gerard Hill.
"It's absolutely disgusting. You'd obviously be horrified."
Mr Hill warned off a mother who was about to take her children inside, then walked across the road to an i-Site to complain. There, he encountered his second disappointment when no one could put him in touch with the maintainer of the toilets.
Department of Conservation area manager Ray Scrimgeour said the toilets were not DoC's, and he noted that there were clean council-run toilets across the road and ones maintained by DoC at the other end of the walk.
He said he did not think the dirty toilets at the beginning of the walk sullied the walkway's reputation.
"I see it as some derelict building ... I thought they were disused."
DoC said the Waitomo Rugby Sports and Recreation Club had jurisdiction over the toilets.
The club's Betty Holden said it maintained the domain adjacent to the toilets, but an independent sports day committee kept the toilets locked, only opening them up once a year for a sporting event.
But whoever had authority over the toilets, Mr Hill said they were placed in a "strategic location" for visitors - particularly those with weak bladders - and would benefit from a spruce-up rather than being closed down.
A set of eco-toilets, complete with solar panels, would boost the country's sustainable image, Mr Hill said.
Waitomo Caves sports day committee chairman Kim Osdorny said the committee scrubbed the toilets for its annual event, then turned off the water at the end - the rest of the time, it was out of its hands.
"It's on a piece of Maori land, and the Sports and Recreation Club is the custodian of the grounds ... We've been trying to hassle the [council] for years to maintain it, and getting absolutely nowhere," Mr Osdorny said.
"It's a bit of a bloody eyesore."
HAVE YOUR SAY
Have you had to use dirty public toilets recently? Contact us at newsdesk@nzherald.co.nz