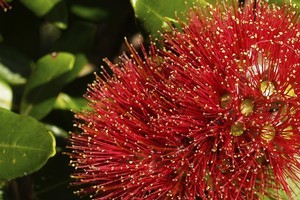 A developer is asking the courts to call off the Tree Council's crusade against him felling an 80-year-old Avondale pohutukawa.
John McKearney's company has been denied consent to remove the tree from a former Rosebank Rd market garden which he is developing for commercial buildings.
In a reserved decision, planning commissioners Les Simmons, Harry Bhana and Rebecca Macky sided with the Tree Council's view that the pohutukawa and a companion oak are of value to the community.
Mr McKearney's Connell Place company will appeal against the decision in the Environment Court stating seven grounds for the Auckland Council making incorrect conclusions. The healthy 14m tree - now in flower - is safe while each side represents its case.
Yesterday, the developer declined to comment on the new twist in his two-year battle.
However, he told the recent hearing that the pohutukawa took up 452sq m of space - depriving him of the maximum building area, including a parking area, on a 4696sq m lot in a total development of 10.5ha.
He said the tree was barely visible from the road until the site was cleared of other trees and anyway would be hidden behind a new two-storey building and the oak tree.
Removal of the pohutukawa would allow practicable development of scarce business zoned land in keeping with Business 5 zoning controls. In return, the developer would plant 31 Maori princess pohutukawa trees on the streets.
Arborists said the pohutukawa could be expected to live for 150 years.
In their decision, the commissioners noted that the developer previously offered to keep both trees as mitigation for the removal of 25 other generally protected trees on the main site.
The council then gave non-notified consent for felling the pohutukawa.
But in March the Tree Council sought a High Court judicial review which Tree Council chairman Sigrid Shayer said resulted in the right for limited notification of any further consent bid.
But the tree was still at the mercy of the developer making a fresh application and he did in July - before the council could move to protect the trees in the District Plan.
In 13 months, general protection for pohutukawa will be removed in an amendment to the Resource Management Act.