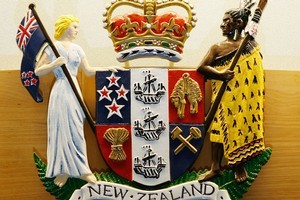 A woman charged with murdering her husband in west Auckland said she feared for her own safety and she'd "had enough" after he allegedly tried to throttle her, a jury has been told.
Dale Wickham, 62, pleaded not guilty in the High Court at Auckland today to a charge of murdering John Wickham, who was found dead from a shotgun blast to the chest in their Massey home on October 10 last year.
Crown prosecutor Moana Schwalger told the jury Dale Wickham made a 111 call on October 10 and said she had been assaulted by her husband.
When police arrived they found Mr Wickham dead on the lounge floor.
"He had been killed by a single shotgun blast to his chest at close range," Ms Schwalger said.
The gun was in the room with one round discharged.
Dale Wickham told police she had killed her husband as "he'd tried to throttle me again".
He had been abusive and and she'd "had enough".
She admitted she kept a loaded gun in her bed and police also found a metal hammer, an antique-style curved knife, an unloaded smaller shotgun and an empty soft gun case under her bedding.
Dale Wickham told police she kept guns in her bed for two weeks before the incident for her own protection and admitted pointing the gun at her husband but said she did not recall pulling the trigger.
Ms Schwalger said this was a deliberate killing, as Dale Wickham was in no imminent anger of losing her life when she pulled the trigger.
The jury was told the Wickhams had been married for 41 years, and had two sons and grandchildren.
But there were strains in the marriage, Ms Schwalger said.
They lived in an extensive property over two sections and had separate living areas and separate bedrooms.
Dale Wickham had been suffering from multiple sclerosis for more than 20 years.
"It had taken its toll on her. She had been hospitalised and her vision and balance was impaired," Ms Schwalger said.
Her husband had heart problems and his relationship with their sons was strained.
There had been a previous domestic incident at the couple's home in January 2009 over some money which Mr Wickham had allegedly hidden.
He denied grabbing his wife by the throat at the time and the couple were separated for the night.
Counsel for Dale Wickham, Michele Wilkinson-Smith said her client was acting in self defence.
"John Wickham had become physically and psychologically abusive. Dale Wickham was so scared to sleep in her own home that she slept with a loaded gun in her bed," Mrs Wilkinson-Smith said.
He made threats to kill her, and said he'd bash her on the head with a brick and put her in the pool with a cover over it.
"When he was close she must have pulled the trigger. The gun went off with fatal consequences," Mrs Wilkinson-Smith added.
A total of 30 Crown witnesses will be called during the trial, which is set down for three weeks.
- NZPA