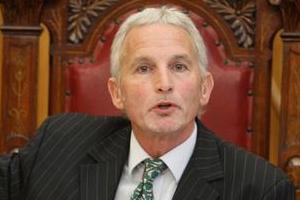 Outspoken Wanganui mayor Michael Laws has confirmed he will not run for mayor again in elections in October.
The decision was mainly due to family reasons, he said in a statement today.
Mr Laws said he wanted to spend more time with his family, including his "three wonderful young children", Lucy, 5, Zoe, 3, and Theo, 1.
"Almost losing Lucy to leukaemia two years ago had a profound effect upon how I view fatherhood. It reminded me that there is no role anywhere near as important," he said.
"The mayoralty, plus my paying jobs, have made me a very busy person. Simply, I want to spend more time with my family and children. They deserve nothing less."
Mr Laws said his supporters had urged him to run again and polling had shown he would win the mayoralty again.
He added that he had accomplished what he set out to do as mayor, but would not step back from local politics altogether.
- NZPA