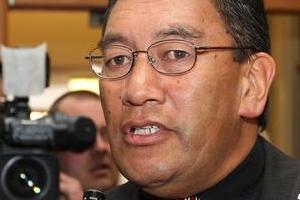 Text of Maori Party MP Hone Harawira's comments on Radio Waatea this morning:
There's been considerable media speculation about a recent email from me so I thought it best to clarify a few things.
Firstly I readily apologise for the poor choice of words in that email. I suspect if I had said something like 'European colonisers have been responsible for the loss of more than 63 million acres of Maori land over the past 150 years and it is inappropriate that you should be holding me to standards set by people with such little regard for Maori land and Maori custom, it wouldn't have rated a mention at all in the media.
My choice of words however has led to a flood of emails and accusations from all and sundry and for that I do apologise.
I apologise to the party because the party has done many wonderful things to advance Maori aspiration and I know that my words have caused considerable damage and unnecessary harm to our relationships with other people and with other parties.
A close friend has also forcefully pointed out that the mofo word is demeaning to women and I apologise unconditionally for using that word.
I note also that my comments have been misunderstood as an attack against all Pakeha and that's caused a lot of damage to my own credibility throughout the Te Tai Tokerau and throughout Aotearoa as well.
I need to say a few words just on that score. Over the past 25 years in particular I've put a lot of effort into what I call phase two of Maori activism. Phase one is protest action and I return often to that philosophy, it helped guide my thinking.
Phase two is building alternatives and since returning to Kaitaia I've put a lot of energy into helping Maori believe that we can do anything. (He listed local organisations and trusts)
Much of that work has meant building close working relationships with many Pakeha businesses in the Far North and throughout Te Tai Tokerau and many Pakeha people that I have worked alongside on a wide range of issues in the public arena right throughout the country.
I know that those relationships have been strained by my comments, I know that I have work to do to repair those relationships, and I intend to do so.
I stand by the comments that I made about he importance that my wife plays in my life. But I am not surprised that the media has chosen to completely ignore those comments in favour of highlighting the more sensational first words.
Over the weekend I met with the party president and co-vice presidents and took on board some very good advice about how best to deal with controversial emails and I intend to follow that advice to ensure that such responses as my last one do not happen again in future.
I recognise that there needs to be some serious bridge building on my party with my caucus colleagues and I will be doing so over the next few weeks.
Although it has been suggested to me on numerous occasions that I consider doing so I am not leaving the Maori Party. Our strength is in numbers and our commitment to a common goal. And I will be taking up a request from the party president to draft a plan to help the party and the caucus to move positively into the future.
And finally my thanks for all the support I received from all of the country over the past few days and the support the people of Te Tai Tokerau have always shown me and held in the past. I intend to continue to do whatever it takes to justify that support.
- NZPA