Programme to transform the country is needed if Labour's leader is to stay credible, writes Dr Damien Rogers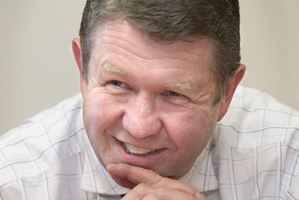 David Cunliffe's popularity began to wane almost as soon as the media spotlight ceased illuminating the contest over the Labour Party's parliamentary leadership. As that contest fades into the recesses of public memory, it seems his honeymoon, now over, was fleeting, lacklustre, and, by all appearances, fruitless.
From now on, when Cunliffe receives sustained media attention his performance as an Opposition leader will be intensely scrutinised. That scrutiny will create unrelenting pressure to perform well not merely during much practised set-piece speeches, but also during the daily cut and thrust of parliamentary theatre. Assessments of relevant polling data will be increasingly unforgiving since Cunliffe's acolytes spent much of the last two parliamentary terms pointing to stagnating polls to undermine both Phil Goff's and David Shearer's leaderships.
Scepticism of Cunliffe's sincerity lies in the Machiavellian manner of his political rise where the ends of grasping power justify the means, however immoral or obnoxious.
Matters will be complicated for Cunliffe should any of his caucus colleagues decide to treat him to a dose of his own medicine by repeatedly raising the prospect, and then refusing to rule out the spectre, of a leadership spill.
The next few months won't be without major obstacles for Cunliffe, the Christchurch East byelection at the end of this month being one. The campaign of the incumbent party's candidate, Poto Williams, could be successful without having to reach her predecessor's 5000 vote majority. However, because both National and the Greens have selected relatively unknown candidates and have chosen not to fully resource their campaigns, success will depend largely on Williams achieving significantly higher than an election victory. Anything less than a good result here will reflect poorly on Cunliffe's tenure as leader and will call into question his ability to turn out the party's rank and file.
A more immediate obstacle is the Labour Party's Annual Conference in Christchurch this weekend, which presents Cunliffe with his first major set-piece opportunity as leader to communicate directly with the party faithful and, indirectly, to all potential voters. Repeating his recent performance at the Conference of Trade Unions - where a rabble-rousing oration to union "comrades" was hopelessly compromised when he conveyed contrary messages to the media waiting outside - is unlikely to suffice. Cunliffe's politics of appeasing Labour's special interest groups by separately telling each what they want to hear, but without engaging directly with the major challenges of the day, will be hard to maintain with his credibility intact.
Party members, affiliates, media and the wider public will want to hear Cunliffe's vision for New Zealand and what his leadership will mean for the country. So far, little of substance seems to have changed from the courses charted by Shearer and, before him, Goff.
This is mostly due to the lack of intellectual firepower needed to re-image the complex and dynamic relationship among the state, the economy, and society. Cunliffe has staffed key positions in the leader's office mostly with advisers from Helen Clark's era. This was a time when "third way" experiments sought more to ameliorate the harshest impacts of the neo-liberal economy on the most vulnerable and less to directly confront the structural inequalities generated by contemporary globalising capitalism.
It's time to abandon the trite, vacuous, yet seductively simple rhetoric of export-led and GDP-measured growth as the sole guarantor of New Zealand's prosperity. In its place must be a meaningful dialogue fostering a culture of self-sufficiency, underpinned by action-orientated policies, that builds a strong domestic market on the backs of high wage-earners.
A leap of this magnitude calls for less genuflection over Free Trade Agreements and the palliative policies of Working for Families, and more effort reconstructing New Zealand's job, education, and lifestyle opportunities. Required here is a wholesale rearticulation of the role of government in generating collective goods in their widest possible sense. Also required is a serious commitment that future generations inherit an economy that works for New Zealanders within a healthy ecosystem, rather than a balanced budget for a national economy that has failed to deliver prosperity for most people. It's a tall order for any leader in Opposition, but no one said it was easy.
A key indicator that Cunliffe is failing this litmus test will be a reliance on both holding his own against Prime Minister John Key in any one-to-one debates and mirroring Key's appearance and rhetoric in order to persuade New Zealanders that he's just as prudent with public finances as the Prime Minister. Unfortunately, becoming a "mini-Key" will neither drive nor inspire the urgently needed transformation of New Zealand public life.


Dr Damien Rogers lectures in the politics programme at Massey University, Albany.