Paul Charman has mixed feelings about the ancient stone hill just north of Kaiwaka.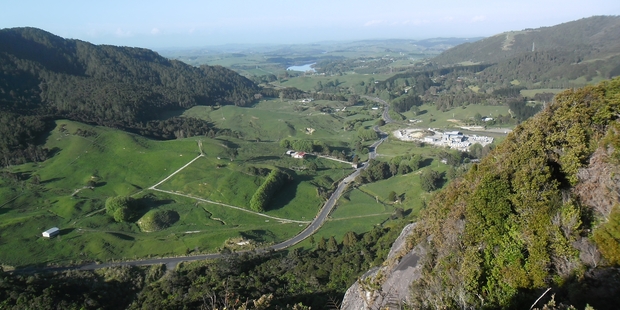 On February 9, the Kaiwaka Sports Association holds its next Top of the Rock, 5-10km walk/run/bike with Baldrock as the destination.
Many of the participants will not be aware of the formidable history of this little mountain.
To me, Baldrock, about 5km north of Kaiwaka, in Northland, has always looked impressive, but also just a bit menacing. I have no problem visiting the craggy dacite and sandstone hill on sunny days, or on picnics with the family. But, as shadows lengthen in the late afternoon or when rain lashes its craggy old slopes, or especially at night, I think I'd rather visit Stephen King's fictitious pet sematary.
Most of the year, unless they gain permission from the family owners of this hill, the public is banned from making the easy 40-minute climb to the summit.
Fair enough. Baldrock is a potentially hazardous closed quarry site and, with a nearby hill called Pukekaroro, is sacred to the Te Uri-o-hau hapu of Ngati Whatua.
I can see Pakeha glaze over at the mention of yet another Maori mountain they're not very welcome to climb. But the place is to local Maori a bit like blood-soaked Culloden Moor is to the Scots - deserving of respect.
When I lived in Kaiwaka, about 12 years ago, things were freer and easier. You cleared your intention to walk up Baldrock with a representative of the owners - the late Tom Coats, who farmed nearby.
The first time I hiked up carrying my then five-year-old daughter on my shoulders, she burst into inconsolable tears near the summit. I later learned Baldrock has been the scene of many tears and mysterious goings on.
Though prized for high-grade rock during early quarrying days, a tractor almost dropped down the dacite face. And just a few years ago, explosives sent a piece of rock further than any quarrymen thought possible - badly damaging the only farmhouse nearby.
Strangest for me was in the late 1990s when I joined Tom to scour the bush under the sheer face. We were searching for an ancient rock carving last photographed in World War II. Some say it was a petroglyph chiselled by Maori, others a doodle by European kauri harvesters in the 1880s.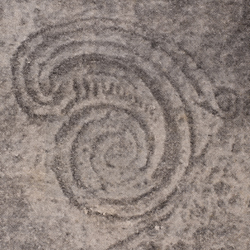 Some New Age types reckoned it was done by a white-skinned race who lived in Northland centuries before Maori arrived.
Tom and I found a giant boulder where he thought he'd last seen the carving as a boy, but no sign remained.
Locals say the carving was covered up in a rock slide 70 years ago.
Our fruitless search made a few lines in the now defunct Coast to Coast Courier, a Lower Northland newspaper I was editor of at the time.
I wrote several articles on Baldrock and nearby Pukekaroro, the latter site providing the climax to Jane Mander's Story of a New Zealand River.
I returned to Baldrock at Labour Weekend, accompanied by Te Uri-o-hau elder Russell Kemp, owner of Kaiwaka's Three Furlongs Tavern, who has never climbed it.
So long as Top of the Rock participants show respect, Russell doesn't mind the event, which raises money for Kaiwaka Sports Association. His grandchildren will take part and he hopes they'll be thinking about their history.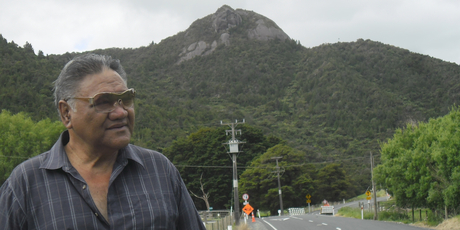 Beyond his readings, Russell knows little about the the 1825 battle of Te Ika-A-Ranganui. As many as 1000 of his ancestors fell before musket-wielding Ngapuhi invaders, led by Hongi Heke.
"Those days were so horrific and displacement of our people so tragic that the old people preferred not to speak of them while I was growing up," he says.
"There was so much blood, so much suffering, so much heartache. These maunga [mountains] were a refuge for a few of the survivors, who hid during the day and crept down at night to find water.
"They lit fires on the peaks, just to show somebody was still holding the land."
About 40 years after the battle, Wesleyan missionary William Gittos built a church at Kakaraea, right over a tapu site where Hongi and his men celebrated a cannibal feast.
Now christian, local Maori had decided to forgive and forget - or had they? When the church was eventually removed 15 two-gallon jars of gunpowder (from the Orpheus wreck) were discovered beneath the pulpit.
Perhaps with such unpredictable northern neighbours, those Ngati Whatua christians were following the advice of Oliver Cromwell: "Put your trust in God, my boys, and keep your powder dry."