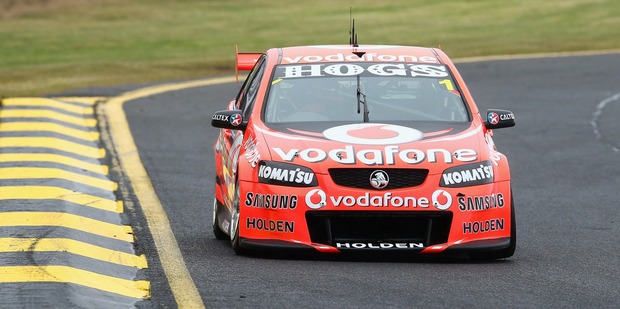 V8 Supercars series leader Jamie Whincup overcame difficult conditions today to show he is capable of stretching his edge in the two key endurance races.
Whincup pushed his Team Vodafone Holden to second spot at the end of Friday practice ahead of the Sandown 500, fractionally behind the Ford of David Reynolds.
The Commodore star leads the series by just one point from Ford's Mark Winterbottom and is chasing down the huge haul of points on offer at Sandown and the following Bathurst 1000.
Winterbottom finished down the table sixth quickest, although Will Davison, who sits third on points, was third quickest during today's lead-up.
Whincup said intermittent showers and an ill-conceived new speed hump, which was hastily removed from Turn 12, had made practice less than ideal.
"It was a relatively tough day with the conditions being wet and dry and what-not," Whincup said.
"It cut away a lot of our practice plan - all cars coming in have got a big plan they want get through and when you get interrupted by rain it makes that quite difficult."
Whincup said one of his issues was adapting to the hard tyres required for endurance running after using soft rubber for recent sprint races.
"We've just got to convert our brain back to hard tyres.
"The track is very slippery - it's a very old traditional track with so much history but at the same time it is quite slippery so we have to get our head around that too."
Whincup had a harsh judgement on the tricky new exit curb speed humps placed on Turn 12.
"They didn't quite do what they were supposed to do...I think they went for a fix which was under $100 and it didn't quite work," he said.
Whincup said the next two races were "massive" for the championship with himself, Winterbottom, Davison and Craig Lowndes all vying for the championship and separated by a handful of points.
"It's a four-horse race and we're all very similar," Whincup said.
"I think there's 150 points between the top four so we all consider ourselves on pretty much even points.
"After these two races we'll all look at where we are and come up with a plan with three rounds to go," he said.
Saturday's program features a race for main drivers and a second for co-drivers with a combination of the times making up the grid for Sunday's race.
- AAP