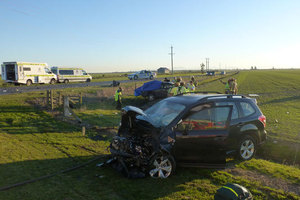 New Zealand's tourism industry took a collective breath this week in the wake of the long weekend's tragic fatal accident involving a tourist on the wrong side of the road.
Should tourists be made to take a test before being allowed to drive here?
This was one question that arose almost immediately following the horrific crash. This is a tough call.
We're in a near-unique situation here -- most countries around the world are left-hand drive, save our good selves, Australia, South Africa, the United Kingdom and Japan.
In this line of work I spend a bit of time in strange places with a steering wheel on the wrong side of the car, and the traffic not where my brain automatically assumes it should be.
It takes a bit of getting used to, that's for sure. Anyone who has driven on the right for any length of time will probably admit to the odd bit of brain fade, which usually amounts to little more than embarrassment, a dodgy move and maybe a startled local. But the potential for much worse, as illustrated with last weekend's tragedy, is always there.
One tip, if driving a left-hand drive car, is not to rush. Get into the car, adjust mirrors -- dipping the outside one to ensure a view of the road markings, which helps keep orientated in a lane -- and really getting familiar with surroundings before heading into traffic. Always check out local road rules, as every country has its own quirks. France has lots of them, making driving in Paris like a dodgy PlayStation game.
Talking in the office this week, we were trying to figure the best idea to keep tourists, and ourselves, safe.
Some sort of theory test is a given, and something that could be done via a kiosk at the airport, spitting out a ticket that says the visitor understands the rules.
It mightn't save the day, but at least makes visitors aware that they need to keep their wits about them.
A 10-minute driving simulator test was another good suggestion.
*Do you have any tricks to make driving in foreign countries easier? Or ideas to make our roads safer for both residents and visitors?
Share them below, or on facebook.com/DrivenNZ
For more car news go to nzherald.co.nz/ driven