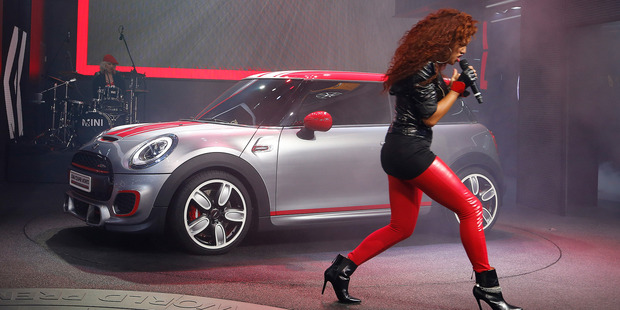 Mini has used the Detroit-based show to preview its line-up of vehicles that will be hitting international markets this year.
As well as the latest version of the Mini, the BMW Group used the show to reveal its sporty variation, the John Cooper Works Mini (pictured).
BMW Group New Zealand's communications manager Edward Finn was at the North American show and was impressed with the 2015 Mini.
"Having seen the new Mini in the flesh, I'm confident the new model will become a style icon in the same way the two previous models have," said Finn.
He told Driven that the new model was slightly bigger than the previous model with enhanced design qualities including - at the front - a revised grille, one-piece chrome frame and new headlight treatment.
"Additional creases trace the outlines of the headlights, wheel arches, headlights and rear lights to the side, giving the design a more striking and contemporary edge."
Finn said another significant change was in the interior.
"Whilst the design signature of the large centre dial is retained, it is now used for navigation and infotainment, and a new instrument cluster (including the speedo), has moved to behind the steering wheel on the dashboard."
The new model also offers enhanced connectivity features combined with an array of personalisation options for owners.
"We can't wait for it to arrive in New Zealand in quarter two this year," said Finn.