Herald Rating:
4/5
Address:
218 Dominion Rd, Mt Eden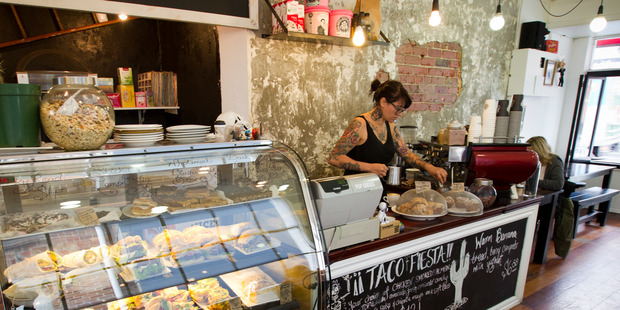 We came here because we'd been meaning to for ages, having noted its pretty steady popularity with the locals.
Parking was a breeze, almost right outside the cafe, with side-streets aplenty.
We walked in and immediately thought "wow, what a buzzy little joint". Heaving with people and with something of a Mexi-punk vibe, the atmosphere is crammy, jammy and relaxed, with a chirpy barista taking our coffee order from behind the machine as we chose our table.
The most unusual thing on the menu was the Breakfast of Zeus, a scrambled mix of tofu, roasted peppers, spinach, capers, spices, hummus and avocado on sourdough.
We ordered the Vinyl Stack big breakfast for me and, despite the earlyish hour, the Cheeseburger Deluxe from the lunch menu for the Pregnant One. Despite the very long wait for the food (I had read the paper, front to back by the time it arrived), it was well worth the wait and came with good-natured apologies and a free round of coffee.
Highlights of the meal included the Stack's spicy sausage and chunky hashbrowns, and the pungent parmesan on the cheeseburger. We ordered a toasted slice of tasty banana bread with yoghurt and raspberry compote to accompany our coffee refill.
The coffee was superb. It was delivered hot, fast, smooth and with a kick, just minutes after ordering and with the requested and very important side of hot milk.
We recommend if you come here keep your group smallish. It's definitely comfortable for twos, threes and fours, but isn't much wider than a few hallways spliced together.
Overall we thought that even though this was our first visit, we felt like regulars. We'll be back for more of that great food, warm welcome and easy, breezy ambience.