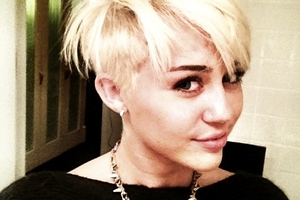 Miley Cyrus says she's never felt more herself after cutting off her long hair.
Cyrus, who is engaged to Australian actor Liam Hemsworth, has been showing off her new "boyish'' hairdo on Twitter.
The singer alerted fans on Sunday, via Twitter, that she was about to cut off her long locks.
A few hours later Cyrus posted a series of photos taken of her newest hairstyle.
"never felt more me in my whole life," she wrote.
"feeling so happy in my skin," another post said.
There's been a mixed reaction from fans on the social networking site. There are some suggestions the pop star donated her hair to charity while others are criticising the crop, likening Cyrus to Harry Potter villain, Draco Malfoy.

Last month the former Hannah Montana star was showing off photos of her transition from auburn-coloured hair to blonde hair.
- AAP