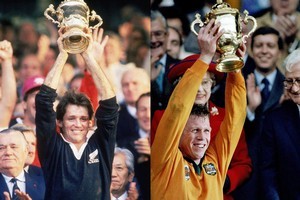 The All Blacks and Australia were the first two teams to lift the Rugby World Cup. Photo / Getty Images
With the 2011 Rugby World Cup less than a month away, the Herald looks back at the past six tournaments in a three part series.
The series naturally kicks off with the first two tournaments - 1987 and 1991.
1987
Video: Great World Cup moments - 1987
In the beginning: Remembering our last victory drink
The buildup: The backroom deals to launch World Cup
How we won: The All Blacks - Getting the nation back into black
Setting the scene: Long road to global rugby supremacy
A sending off that made Wallaby history
All Black memories: 'Dawn of a new era'
Tournament star: Michael Jones - Keeping up with Jones
Tournament action: Fans' lukewarm start fast turned to fervour
1991
Video: Great World Cup moments - 1991
How we won: The Wallabies - Defeats led to success
Setting the scene: Aussie's winning mindset
'Beaten by a better team'
Tournament action: Fitter, faster England level the playing field
After long string of wins it was a bridge too far
Tournament star: David Campese - Campo's golden touch