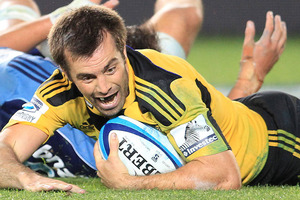 Conrad Smith's diligence has paid dividends for his vision.
The All Blacks midfielder saw an eye specialist as a precaution after the Hurricanes' season was officially over on Monday, July 16, but ended up having two delicate procedures in the following four days to repair a detached retina.
Smith said he didn't suspect anything major was brewing and when he visited the specialist he was able to read clearly from a letter chart, but on closer inspection the doctor told him he needed to go under the knife.
"I'm not even 100 per cent sure what game it happened in. I just was aware of it around just after the test window and it wasn't anything obvious," Smith said.
"But I just went in as a precaution and since we'd been knocked out of the playoffs I went in on the Monday and was told I needed an operation on the Tuesday.
"I've had a few problems in the past so I actually knew the specialist.
So that's the reason I went in. Another rugby player probably would've left it for another couple of weeks, but since I'd been in before it was just an easy thing for me to sort out."
Smith has been ruled out of action for six weeks and is certain to miss the first two tests of the inaugural Rugby Championship against Australia in Sydney on August 18 and in Auckland a week later.
He was a spectator on day one of the All Blacks' wider training group camp in Wellington today and the 30-year-old is likely to return to the side when they host Argentina at Westpac Stadium on September 8 although he didn't want to put a specific date on his comeback.
"It's a bit hard. I know I'm not going to take any risks with it so it's just all on the doctor's call, really. I know in probably a week or two I'm going to be feeling great and want to play but I've just got to keep going back.
"I see him again, the specialist, next Wednesday and he'll just keep doing what he does, looking at the eye and make sure it's all repairing well and that's all I'm going off at the moment."
Smith has held a mortgage on the All Blacks' No 13 jumper since 2008 and his likely replacement for the tests against Australia will be Ma'a Nonu, Tamati Ellison or Ben Smith, with Sonny Bill Williams set to play at second-five before he heads to Japan.
Nonu represents the most experienced option and Smith said his former Hurricanes team-mate would have no problem moving out one spot from his preferred inside centre role.
"If it comes to that I'm sure Ma'a's spent a lot of time in that position over his career. So if it is him that's selected there I'm sure he'll make a great fist of it."
Smith's activities outside rest have been limited so he doesn't jolt his eye, but he said he had managed to squeeze in a few rounds of golf since his operations.
"Right now with my vision the way it is I was lucky to break 100, I think," he laughed. "It wasn't flash but I figure if I can play like this then when I get my vision back I'll be a lot better."
- APNZ