Chinese have a long history in New Zealand, despite limited immigration rights, racial discrimination and social exclusion for many decades. Lim Sun Ngan (Betty) tells a happier story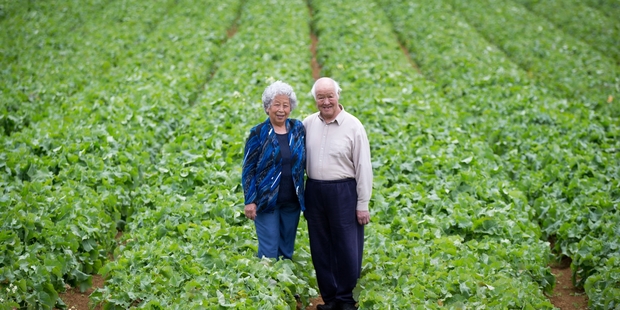 I came to New Zealand as a young girl with my mother in 1939. We were war refugees escaping the Japanese occupation of China. We came to New Zealand because my father was already here.
He had been living here for about 20 years, working in market gardens and coming back to visit us in China when he could. Chinese women and children were not allowed to live in New Zealand until the outbreak of World War II.
Chinese men had been coming here without their families for a long time. My grandfather, Lim Ping, worked here as well as my father, Lim Hong.
My husband's grandfather came in the gold rush to Otago in the 1860s. When the gold ran out he worked in market gardens in Dunedin and his son, my husband's father, was in his teens when he started coming here to join him.
It was hard for Chinese here in the early years, my father used to say. But in my lifetime I have not experienced any of that. I was 7 or 8 when I arrived and went straight into primary school not knowing English.
It was a convent school in Ohakune and the other children were lovely to me. It might have helped that on my first two days I took a bag of lollies and handed them around.
People ask me, "Betty, how did you learn English", and I do not know. I just watched what the kids around me did and I suppose I worked things out.
After school and at weekends, we helped with the garden work. In those days at Ohakune, farmers used to give Chinese growers a bit of land that was covered in bush. The grower would clear the bush and was then allowed the land rent-free for a few years.
I remember that I was always picking up bits of branch and stump and throwing them into a cart pulled by Dad's horse.
The trouble with the bush-clearing deal was that after a few years the land reverted to the farmers, cleared and cultivated, and the grower had to leave with nothing.
That happened to Dad around 1948, and we moved to Mangere where he bought a few acres that had glasshouses and he planned to grow grapes. Dad knew nothing about grapes.
Eventually he bought a bigger garden at Pukekohe where he could keep his old horse, Ginger. When the time came, he could not bear to send Ginger away. He borrowed a bulldozer and buried him on the property.
Meanwhile, I had met Young Kai Jue (KJ) who was from Otago and was visiting cousins at Pukekohe. We married in 1955 and lived at Stirling, near Balclutha, where KJ's father was a commercial grower. Our son Gary was born there.
In 1957 we bought a 30-acre (12ha) garden at Bombay and have been there ever since. We have retired now, but I loved gardening. It's a great life, not financially but everything else about it is lovely. You are outside, you can work at your own pace. There are other people with you, and you can chat as you work.
And you are working with plants that stay where you have put them and do what you want. As I used to say to people, "A cabbage can't talk back to you".
We had three more children, all daughters, Sharon, Leanne and Teresa, and like Gary, they all helped in the garden after school and at weekends. It is what our families do, it just comes naturally to the children.
The children also had time for other things. Sharon wanted a horse and we fenced off a bit of land that could not be used for growing. We got her a piano, too. We did not get television until the Commonwealth Games in Christchurch (1974).
Commercial growing never gave me much time for hobbies. The local people are wonderful and the women were keen to get me playing golf, but I had to keep telling them I just did not have time.
Gardening is a struggle financially because it is not cost-plus. The prices you have to accept seldom reflect the increasing costs of sprays, manure and other things. It got worse when the auction system stopped. Now you have to sell to brokers who get in between growers and retailers and take a cut.
Turners and Growers were good to deal with. They always treated us fairly, and were always polite. That is all I ask of people - to be fair and polite to you. What they say behind your back does not matter so much.
We feel very Kiwi, and we have not kept in regular contact with wider family in China. We had been in New Zealand 50 years before we saw China again.
Sometime in the 1980s, a friend phoned from Canada to say she was going to visit China and did I want to come? We took our youngest daughter and went back to see what had happened to our villages in Canton.
It was all different. It is all a city now. You cannot find anything there unless someone shows you. The place is changing so quickly that when we went back a second and third time, just a year apart, things that were there the first time had disappeared and been replaced.
In New Zealand now there is a new Chinese population but we do not know them. Our families are well established.
Gary has a fish and chip shop in Pukekohe. One of his sons works with him, the other is an economic analyst in England. Sharon has four daughters and two grandchildren.
Sharon is still an outdoor girl. She helped her husband in market gardening until their children were grown, and now works for a friend who grows flowers.
Our second daughter, Leanne, is in Dunedin. She works in a bank and has a daughter at university.
The youngest, Teresa, worked at the airport in the duty-free shop for a long time. Now she is with a beauty-products firm in Auckland.
We Chinese have deep roots in this country now.