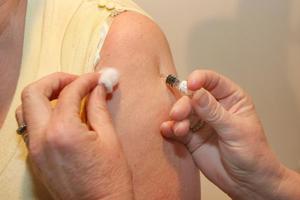 The retraction of a controversial research paper on vaccination, 12 years after it suggested a link to autism, is hoped to lead to an increase in the number of children who receive vaccinations.
The paper investigating the measles-mumps-rubella vaccination was published in the British medical journal The Lancet in 1998 by Dr Andrew Wakefield and colleagues. It triggered an international scare and is credited with causing a reduction in use of the MMR vaccination and a consequent increase in the diseases it protects against.
The Lancet said this week that it had withdrawn the paper as a result of last week's preliminary verdict by a panel from Britain's General Medical Council that Dr Wakefield and two of his co-authors had acted "dishonestly" and "irresponsibly".
"It has become clear," the journal editors said, "that several elements of the 1998 paper by Wakefield et al are incorrect ... In particular, the claims in the original paper that children were 'consecutively referred' and that investigations were 'approved' by the local ethics committee have been proven to be false.
Therefore we fully retract this paper."
The 1998 paper, based on 12 children, some of whom had bowel disorders and autism which had developed after vaccination with MMR, was criticised from the start. But it triggered a sharp fall in vaccination rates and years of speculation about the safety of MMR vaccine, despite the absence of confirmatory evidence.
Helen Petousis-Harris, the director of research at Auckland University's Immunisation Advisory Centre, said the "groundless controversy" had led to many preventable cases of disease internationally and in New Zealand.
"New Zealand still has a relatively low uptake of the MMR vaccine with only around 70 per cent of children receiving it at the recommended age.
"There are still many parents who are concerned about the Wakefield claims. We hope that this news [the retraction] will add further reassurance that the MMR vaccine is not associated with autism or any other developmental problems."
The president of Britain's Royal College of Paediatrics and Child Health, Professor Terence Stephenson, said measles, mumps and rubella vaccines had all been shown to be safe and the paper had done "untold damage" to the vaccination programme.
The Lancet announced a partial retraction in 2004 after it emerged that Dr Wakefield had received payments for his research from the Legal Aid Board which he had not declared.
The journal said at the time that this was a "fatal conflict of interest" but added: "We are entirely satisfied that the investigations performed on the children ... had been subjected to appropriate and rigorous ethical scrutiny."
In its judgment last week, the GMC panel said that the children were subjected to invasive investigations, which were not in their clinical interests and which lacked ethics committee approval for research.
Dr Wakefield and Professors John Walker-Smith and Simon Murch face being struck off the medical register if they are eventually found guilty of serious professional misconduct.
- additional reporting by INDEPENDENT