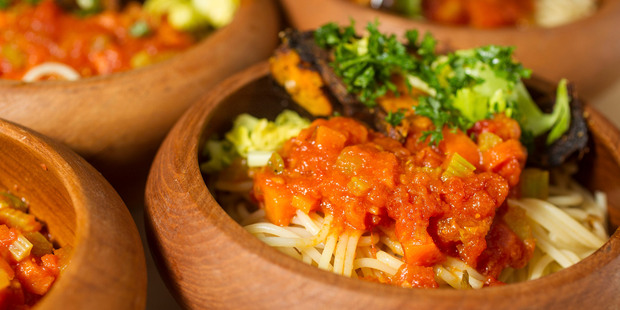 Serves 4
• Half a packet of dried spaghetti
• Finely dice half a carrot, 1 stick of celery and celery leaves from the bunch
• 4 pieces of roasted pumpkin, saved from the pumpkin bake (see below)
• 1 tbsp oil
• 1 can of chopped, tinned tomatoes in juice (bought on special for $1)
• ½ teaspoon of tumeric (optional)
• juice of half a lemon
• One stalk and head of parsley, finely chopped


1. Cook and drain the spaghetti.
2. Heat the oil in a pan and gently cook the carrot and celery until soft.
3. Add the can of tomatoes with their juice and heat through.
4. Add the tumeric and lemon juice.
5. Add the cooked spaghetti and toss together.
6. Serve into bowls and dust with the parsley.