Address:
23 Britomart Place, Auckland
Phone:
(09) 366 1759
mexico.net.nz
Rating:
3/5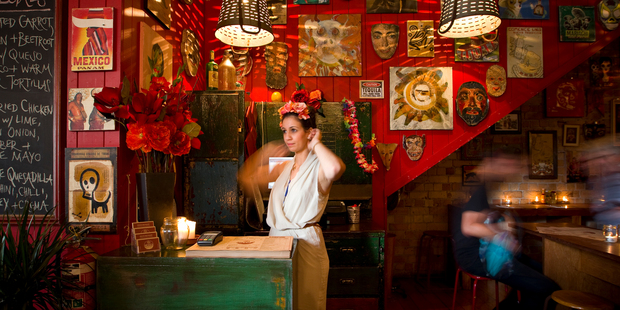 A Mexico fan has been hassling me to go for so long that I've taken to scooting around corners when I see her coming. Now it's been 18 months and there are branches in Takapuna and Hamilton. So in terms of alerting you to the arrival of a new joint in town, I have missed the boat.
It needs no endorsement, anyway, and I suspect it is impervious to disparagement, since it was bulging at the seams at 6pm on a recent Wednesday. Wandering hopefully into what I thought was the front, I was steered in the direction of a side door where a woman sat taking names and numbers.
We were told we could nip around the corner to a hole-in-the-wall bar (really just the restaurant's back door) for half an hour or so. To avoid getting so sloshed on margaritas that I wouldn't remember anything the next day, I ordered a beer; the student got the margarita.
"You should tell them who you are and demand a table instantly," she said. She was being ironic, of course, but I couldn't help thinking of Michael Winner, the English film-maker and later restaurant critic for the Sunday Times, who died in January.
He was so fond of screaming "I'm Michael F***ing Winner!" at restaurant staff that he was routinely referred to by all three names.
But we were not required to languish for long in anonymous darkness before they rang to say we had a table. Getting to it was like picking your way through the crowd at a soccer match in Mexico City – and we ended up about 2m from where we had been sitting. But we were in.
One of Mexico's waiters is nominated in the hospitality industry's Oscar-equivalent Lewisham Awards, to be announced next month. I think I am safe in assuming that it was not the person who served us. We got a woman whose speciality was surveying her section grimly while standing with her hands behind her back like a nightclub bouncer.
There was an almost menacing tone to her "are you ready to order?", delivered within moments of our having sat down, and she seemed not at all impressed by my asking her whether there might be a torch to illuminate the menu, which was virtually illegible in the dim light. When I said we had finished, she couldn't wait to get rid of us. I suspect fast turnover is a corporate mission statement.
The food itself put me in mind of the old Punch joke about the curate's egg: parts of it were excellent. Mexico deals in the open-face soft-shell tacos, which is fine by me because you get to see what you're eating before you roll it up. The tortillas are made from wheat flour, though there is a gluten-free (presumably maize) version available and they are a very reasonable $6 each.
We ordered one with minced lamb, caramelised with pomegranate molasses and topped with chilli and mint, which was a sensational blend of sharp, fresh tastes and rich, smoky ones. Another with spicy prawns and coriander was equally impressive.
Much less successful was a vegetarian taco in which some interesting ingredients (a salsa fresca and the curd cheese called queso fresco) were dominated by large, bland lumps of battered eggplant.
The same problem bedevilled an octopus empanada, whose flaky pastry was a serious error: the main ingredient struggled to make its presence felt. I thought the ceviche pretty stingy with the fish, though the student reckoned my stabbing in the dark with the fork had just been unlucky. She got plenty, though agreed with me that it was not very good. The design of the dish, which included grapes and watermelon, was smart, though.
The hit of the evening was the fried chicken – boneless pieces rolled in a gritty chilli maize coating with a creamy aioli dipping sauce.
It's worth noting that two thirds of the menu at Mexico is devoted to drinks, so the website's description of the place as dealing in "food and liquor" may have things back to front. The food is not bad at all but it's not must-try, though the student gave a good report of the margarita. I might have to go back a try a few when I don't have to remember anything the next day.


Verdict: More bar than restaurant.