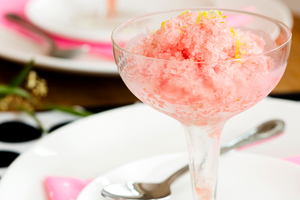 Serves 4
• 1/3 cup caster sugar
• 1/3 cup water
• 2 Tbs lime juice
• 1 tsp finely grated lime zest
• 500g watermelon

1. Put the sugar and water into a saucepan and bring to a simmer, stirring until the sugar has dissolved. Let cool. Stir in the lime juice and zest.
2. Remove the seeds from the melon and discard. Chop the flesh and puree in a food processor, adding in the sugar syrup at the end.
3. Pour into a shallow metal tray and freeze.
4. When ready to serve, scrape with a fork and pile into chilled glasses.