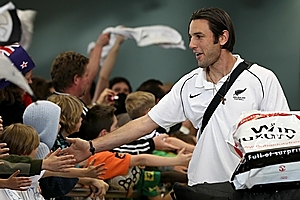 Some of New Zealand's soccer World Cup heroes the All Whites and their coach Ricki Herbert will be celebrated at a parade through central Wellington on July 21.
The All Whites will be joined by players from the Wellington Phoenix and the Argentinean club Boca Juniors ahead of their friendly game at Westpac Stadium on July 23.
Prime Minister John Key will wave the team off from Parliament's forecourt at 12.30pm. They will make their way down Lambton Quay, Willis Street and Mercer Street before being met by Mayor Kerry Prendergast and Mr Key in Civic Square.
Fans will be able to get autographs of their favourite players after the parade. Non-Wellington All Whites Ivan Vicelich and Aaron Clapham have confirmed their attendance and US-based Simon Elliott is flying in from the United States.
Ms Prendergast said the parade was a celebration of the All Whites success and a chance for people to come and cheer their football heroes.
"Their World Cup finals story began in earnest in Wellington when they beat Bahrain at the Stadium last November," she said.
"So it's fitting that their journey finishes here with a welcome-home parade and celebration of their journey. It really has been a great year for New Zealand football."
New Zealand Football chief executive Michael Glading said the team would go down in history as one of New Zealand's greatest sporting stories.
"To head away to a World Cup as the underdogs and come home undefeated is an incredible achievement; they have made a mark - not only in New Zealand but throughout the world, and we should all be very proud of their performance."
- NZPA