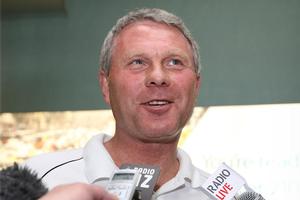 Triumphant All Whites coach Ricki Herbert has returned to New Zealand proud of his team's World Cup effort and, for the time being, committed to staying here.
Herbert arrived in Auckland airport today following the All Whites' unexpected success in South Africa, where the team went undefeated in its three matches, including a 1-1 draw against previous champions Italy.
Many have hoped to hold a celebration in honour of the team's historic run, but Herbert said the earliest the team could get together again was October.
New Zealand Football is looking to schedule a friendly international match to be played in New Zealand at that time.
A group of fans waited at the airport to greet the coach, who has been the focus of much speculation about his future.
Herbert hinted that he had received a few offers to coach elsewhere, but said he would remain with the Wellington Phoenix for now.
"It's a little bit hard to say ... there's a few things," he said.
"I would like nothing more than to carry on [with the All Whites], but I just have to weigh things up.
"I'm going back to Wellington today. That's where I'm employed. That's my job."
Herbert also said he was in talks with New Zealand Football, which had been positive.
"I would love nothing more than to carry on, but I just have to weigh things up and make sure it's possible."
Whether he could hold both an overseas job, if it came his way, and continue with the All Whites would be up to the respective employers.
"It hasn't been a problem before, but some people might see it as a problem."
Herbert said his most enduring memory of South Africa, where the All Whites drew with Slovakia, world champions Italy and Paraguay, was how his team performed.
"Nobody thought we would get a point. We got three and came home unbeaten ... It was absolutely fantastic. I think it's an iconic team and it will be remembered for a long time," he said.
"These guys have been fantastic, absolutely fantastic. It's an iconic team. They've done so well. I think they will be remembered for a long time."
He believed that having an international fixture in New Zealand before the end of the a year was "a must" to maintain soccer's profile in this country and he had spoken about it to NZF chairman Frank van Hattum.
"I think we owe it to the public," Herbert said.
"We couldn't get a game before we went away. I think it's just the right thing to do."
Herbert, along with assistant coach Brian Turner and van Hattum, was part of the playing squad at the only other World Cup that New Zealand have been to, in Spain in 1982.
He said going to the sport's biggest tournament as a coach probably topped being there as a player.
Making team selections and all the other aspects of managing a side was different from just putting on a pair of boots and hoping to be in the team.
"You are kinda out there on your own at times and that's the challenge that you have, and it's a good challenge," he said.
"No disrespect to playing, but this probably has a lot more to it."
One fan, 11-year-old boy Sol Cranna-Smith, got the coach to sign his All Whites' flag.
He had stayed up to watch every All Whites' game and was "excited" to see Herbert come home, Sol said.
Other fans at the airport included English visitors Katie Whiteley and Marddy Ayres, who said they had come to love the All Whites more than their home team.
- NZHERALD STAFF, NZPA