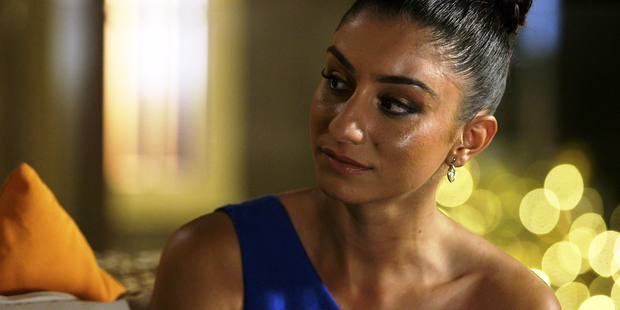 Bachelorette Naz Khanjani has been seen busy scheming and back stabbing on The Bachelor NZ, but those tactics haven't done her any favours.
The mysterious beauty who works as a landscaper in Christchurch has taken aim at other contestants, starting what she calls "the hit list".
More from Spy:
• It's war on The Bachelor
• Why Bachelorette fired up at Mike Puru
However, her tactics of snitching on others seemed to be wearing thin, even with Bachelor Jordan Mauger.

After first telling on Wildcard contestant, Anna Marshall, she turned her sights on some of the other girls.
Tonight's cocktail party saw her single out Nicole, who said she'd take "a $5000 necklace over a rose".
The comment came after Shari got a sparkling gift from Mauger on an awkward date at the Auckland Art Gallery.
Mauger listened to the rant before telling Naz next time they sat down together it should be to talk about something other than her competition on the show.
Her alliance with Claudia had not gone un-noticed in the mansion and created suspicion among the remaining ladies.
"I don't want to be a nark..." Just say what you have to, don't defend your statement #thebachelornz

— Chanel H-W (@thechanelfactor) March 15, 2016
Naz slowly adding more and more girls to her list #TheBachelorNZ

— Kaelen Speedy (@KaelenSpeedy) March 15, 2016
Naz earned a reputation as the resident villain from the get go, and while she claimed: "I think Jordan really likes me" - Twitter users would disagree.
Many felt her underhand schemes were a form of bullying and they were having none of it.
Yet Mauger gave her a rose at the ceremony over American doctor Lindsey, who was sent home.
Nizzle is going home for shizzle #TheBachelorNZ

— Bree Jones (@BLJones80) March 15, 2016
"I haven't had a single date yet" - Naz clearly doesn't realise why she's on #TheBachelorNZ

— Guy Williams (@guywilliamsguy) March 15, 2016
What kind of stories is Naz gonna cook up this time ???????? #theBachelorNZ

— Tammy Palm (@TammyPalm) March 15, 2016
I think Naz's cleavage has cut the air supply to her brain #TheBachelorNZ

— Chchgirl17 (@chchgirl17) March 15, 2016
So Naz survives to torment another day... #TheBachelorNZ

— Mehpara Khan (@MehparaK) March 15, 2016
Some even questioned her sincerity in the search for love.
It's ironic that Naz calls everyone out for not being there for Jordan, whilst she's there by producer demand and drama #TheBachelorNZ

— Kirsty Pickett (@kirsty_pickett) March 15, 2016
#TheBachelorNZ come on...Naz and Claudia are kept in for "stirring the pot " @TV3nz

— * (@jennylittle42) March 15, 2016

- nzherald.co.nz