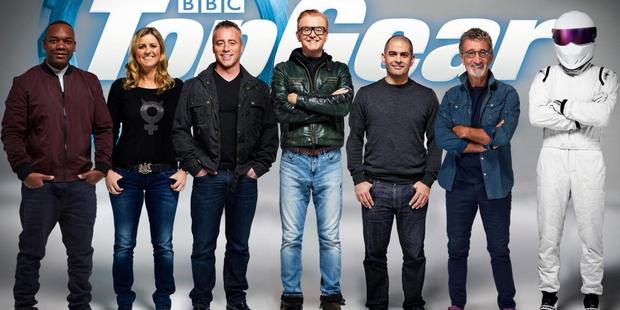 A Formula 1 commentator and German racing driver have been signed up to co-present the revamped Top Gear.
Eddie Jordan and Sabine Schmitz will join Chris Evans, Matt LeBlanc, The Stig, YouTube star Chris Harris and motoring journalist Rory Reid when the famous vehicle road-testing television show returns to the screen in May.
Racing driver Schmitz is the show's first female presenter in 15 years.
"I've appeared on Top Gear a few times in the past, so I know we're going to have a lot of fun," she said in a statement.
"I grew up next to the Nurburgring, and have been racing for most of my life, so the chance to combine both driving and filming was too good an opportunity to pass up."
However, fans were shocked that Top Gear's promotional photo featuring the new hosts, included Schmitz wearing a t-shirt with a print of a female sign with devil horns.
Many on Twitter felt that it was offensive and unnecessary to "brand" the only female host.
TOP GEAR VIEWERS ARE EXPECTED TO BE SO BEWILDERED BY A "WOMAN" THAT SHE HAS TO WEAR A SHIRT EXPLAINING WHAT SHE IS. pic.twitter.com/lG2oZEZNTr

— Daisy Buchanan (@NotRollergirl) February 11, 2016
.@NotRollergirl I see she also has to reassure fans concerned about a "BLOODY GERMAN" being on the show pic.twitter.com/tppH7UKSTH

— Christopher Hooton (@ChristophHooton) February 11, 2016
"Wear the t shirt with the female symbol with horns. It says 'yes I'm a woman on Top Gear but watch it. I'm feisty'" pic.twitter.com/guam48HWFp

— Joe Scaramanga (@JoeScaramanga) February 11, 2016
Top Gear is so proud of itself for hiring a woman, it branded her. pic.twitter.com/GgyQ5NWFbh

— Phoebe Rountree (@perountree) February 11, 2016
Top Gear has a woman! Admittedly she's one out of six, and wearing an identifying lady symbol, but hey ho hi 2016 https://t.co/e12OiaUE0J

— Kat Brown (@katbrown) February 11, 2016
No-one would've spotted the female presenter, had she not been branded.#TopGear pic.twitter.com/wGIjFS3skC

— Anti-Social Media (@ASM_Podcast) February 11, 2016
In case you didn't realise there is a mechanic pixie dream girl in #TopGear's line-up, they also branded her female pic.twitter.com/3m6JjVPIKj

— James Dempsey (@James_Proclaims) February 11, 2016
F1 pundit Jordan was also thrilled to be included: "I'm giddy with excitement to be joining Chris and the team. I have such enormous respect for all my fellow presenters and I politely ask that they go easy on these old bones.
"Cars are in my DNA and although I've been fortunate enough to accomplish most things I ever aspired to in motorsport, presenting Top Gear is quite simply the icing on the cake."
Controversial host Jeremy Clarkson left the series last year after assaulting a producer. James May and Richard Hammond also signed off.
However one of the new presenters has already been left red-faced after claiming the show would "absolutely not" work without the original hosts.
Harris last year said the BBC would be "absolutely mad" for trying to continue the show with different presenters, according to The Sun.
In a blog from last March following Clarkson's suspension for punching a Top Gear producer, which sparked the departure of all three hosts, Harris wrote: "Does TG work without Jeremy? Probably not. Does it work without Richard and James too - absolutely not.
"I think the BBC would be completely mad to try and maintain the same format with three new people, but I don't doubt it will try.
"I genuinely think that if James and Richard choose not to continue then the format has to die with them. No one can ever do with it what they have, because they defined it in the first place."
Harris also said that his presenting skills were not up to Top Gear standard in another confession that could concern bosses.
He said: "The only creative rule [I] have ever consistently adhered to is to never try and be TG.
"Never try to be too funny. Don't go on adventures. Don't do anything that could usher you into direct comparison with TG because you will automatically look s***."
Meanwhile, new presenter Rory Reid has boasted on Facebook about "going after" Clarkson, sharing a picture of himself brandishing two shotguns while smoking a suspicious-looking cigarette, according to The Sun.
He captioned the 2012 picture "yippee ki yay" - Bruce Willis' catchphrase in the Die Hard films.
Friend Robert Follis commented on the snap: "Yikes, you going after Clarkson seriously then?"
Reid responded: "Taking no prisoners, Rob."
- News.com.au, nzherald.co.nz