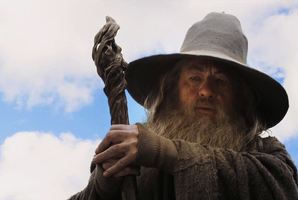 The Hobbit director Sir Peter Jackson has revealed the movie's latest promotional poster - but this one is only available to a select few.
The latest poster, featuring a photo of Gandalf, played by Ian McKellen, standing in front of a picturesque New Zealand landscape, is the second promotional poster to be released in the lead-up to the showing of the two-part movie.
Its first instalment, The Hobbit: An Unexpected Journey, will hit the big screen on December 14, with There and Back Again following next year.
The exclusive poster was revealed by Sir Peter on his Facebook page overnight.
But only those attending Comic-Con, a comic book and popular arts convention in San Diego, can get their hands on the poster.
Many fans took to social media to discuss the poster, including Tamara Miller who questioned on Facebook why it was not available outside of Comic-Con.
"This poster is beautiful. Why can't it be sold outside of comic-con, which is on the other side of the country?? I would do anything for one.''
Many questioned why the poster featured Gandalf, rather than a Hobbit.
Ken St. Andre said, on Twitter: "Yes, we're all eager to see Peter Jackson's movie version of the Hobbit, but if the poster says The Hobbit, it should show Hobbit not Wizard''.
Peter Isaac said the poster was too simple and did not display enough of the story.
After 266 days of filming, Sir Peter announced on Friday it had come to an end.
"We made it! Shoot day 266 and the end of principal photography on The Hobbit.
"Thanks to our fantastic cast and crew for getting us this far, and to all of you for your support! Next stop, the cutting room. Oh, and Comic Con!''
A party was held at Wellington's TSB arena to celebrate the completion last night.
The world premier of the first instalment of The Hobbit will be held in Wellington on November 28.
- APNZ