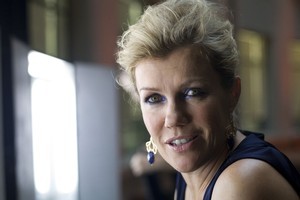 Robyn Malcolm is not dead.
The beloved New Zealand actress is the latest celebrity to fall victim to the Kauri Hills internet death hoax - and she's correcting the rumour herself.
Last night a link to a fake news article was posted to Malcolm's Facebook profile.
The hoax article said Malcolm "fell more than 60 feet to her death on the Kauri Cliffs while on-set".
The Outrageous Fortune star was quick to reassure her fans, and express anger at the person who created the fake article.
"I'm about to get my head chopped off but only in a stage play," she posted to her profile.
"Perhaps this sick f--k can't differentiate between reality and fiction".
"I had a friend who fell to his death. This not funny in any way".
The foot of the Kauri Hills is one of the internet's most popular hoax celebrity death sites.
United States actor Jeff Goldblum was said to have died there in 2009 (he didn't) and Tom Hanks and Tom Cruise in the same month - November 2006 (they didn't either).
- NZPA