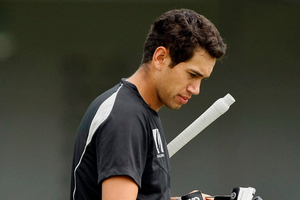 The paramount question remains: how can former skipper Ross Taylor be best reconciled with the New Zealand team in the wake of his demotion?
He is back in the nets and might waltz back into the dressing room, don the pads and make a ninth test century against England at Dunedin's University Oval in March but some form of detente appears necessary to ensure Taylor gets back to his best.
The hijinks of the past couple of months won't be resolved over a beer, a coffee or even Taylor's favourite: a bucket of Colonel Sanders' finest fried chicken.
This will likely take months rather than days to sort.
Coach Mike Hesson, manager Mike Sandle and batting coach Bob Carter need to first make their peace, having originally dropped the captaincy news on him in Sri Lanka. Compromise from both sides is mandatory.
An open session with the players wouldn't go amiss either. Perhaps someone neutral with previous experience and respect in the New Zealand team environment, like sports psychologists Gary Hermansson and Gilbert Enoka or former managers Sir John Graham and Jeff Crowe (if he's visiting from Florida), could facilitate proceedings.
History tells us there are myriad ways to deal with dysfunction when it besets cricket teams. Some work and some don't but three past methods might be applicable.
1. The 1999 revival to launch a legacy
At a Birmingham restaurant after a first test loss to England in 1999, senior players such as Stephen Fleming, Chris Cairns, Dion Nash, Adam Paraore, Simon Doull and Roger Twose held a truth and reconciliation session. New Zealand turned the test series around to win 2-1.
"We questioned each other hard and some of it was quite revealing," Cairns told the Herald on Sunday as part of The Shame Game series.
"Teams are a funny thing, as I don't believe you have to necessarily like someone, but you must respect them. As Nashy said: 'Respect is not something you earn and keep, it's something you keep earning.' It's a quote I found very poignant."
2. Brearley's arm around Botham's shoulders
Australian pace bowler Rodney Hogg once described Mike Brearley as having a "degree in people".
A psychoanalyst by trade, Brearley needed those skills when returning to lead England in the 1981 Ashes series at Headingley.
Ian Botham had resigned the captaincy after the drawn second test of the six-match series at Lord's, where he made a pair.
It is claimed Brearley's man-management skills (he was also once referred to as 'Freud in the slips') inspired Botham to three consecutive man-of-the-match performances to win the series.
A tall order for Brendon McCullum with Taylor, but something to aspire to.
3. Pollock's humility after failure
A victim of circumstance, Shaun Pollock succeeded the disgraced Hansie Cronje as South African skipper.
He started well but drew wrath when beaten 3-0 by Australia in 2001-02 and missing the home World Cup finals in 2003 where South Africa failed to qualify for the Super Sixes (despite smug advertising billboards at Johannesburg airport which read "we promise some early departures").
The result meant Pollock lost the captaincy to Graeme Smith, something he accepted with grace. It didn't stop him performing. He carried on almost five years playing 40 of his 108 tests.
He took 143 more wickets at 27.79 (career wickets 421 at average 23.11) and made 1339 runs at 30.43 (career runs 3781 at average 32.31).
Whatever strategy is adopted, it's likely Twitter won't be brought into play by the protagonists. A fast-growing way to avoid media commitments, a succinct Taylor sentence on Twitter gave New Zealand cricket fans hope with the world's No2 ranked test side arriving next month.
"Looking forward to working my way back for the home series against England," he tweeted, successfully avoiding another mass media grilling.
After a break of more than a month, Taylor returned to the nets in Hamilton last week. He will return to play for Central Districts against Canterbury at Napier's McLean Park, a favourite venue given his two test centuries and average of 70, not to mention numerous run-filled innings at one-day and first-class level.