Central Districts seamer must play big part if NZ are to test South Africa's batting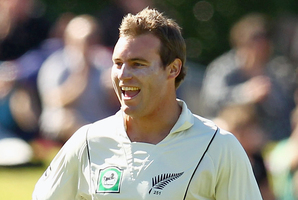 Doug Bracewell's time to stand tall for New Zealand, again, has arrived.
The Central Districts seamer must play a big part if New Zealand are to test South Africa's powerful batting lineup in the two-test series, especially now that the country's leading fast-medium bowler, Tim Southee, is sidelined by a thumb injury for at least six weeks.
The budding Central Districts allrounder has had a rapid rise in the New Zealand game, having produced a couple of vivid purple patches, but with bouts of mediocrity in between.
No Southee, no Dan Vettori, also out with injury, potentially leaves New Zealand at the mercy of the likes of Hashim Amla, Jacques Kallis and AB de Villiers and captain Graeme Smith, respectively ranked No3, 6, 7 and 13 in the game.
So it's up to the broad-shouldered Bracewell to pick up the strain.
Fast-climbing left armer Trent Boult is there, and the ageless Chris Martin, who has a good record against the South Africans, while Pretoria-born Neil Wagner is certain to be itching to show his skills over there.
But Bracewell, if he can rediscover his best, has a touch of X Factor about him.
On debut in Bulawayo, late last year, he bowled New Zealand to a 34-run victory with five for 85 on the final afternoon.
In Hobart just before Christmas, Bracewell's three for 20-six for 40 match double carried New Zealand to a nail-chewing seven-run win over Australia.
His second innings effort won Bracewell the ESPNcricinfo best test bowling performance award of the year, with one of the judging panel, former Pakistan test batsman, Raja Ramiz, referring to it as "something special". "He's here to stay.
"He'll bring a lot of laurels for the New Zealand team because he's got talents," Raja added.
Bracewell, with 42 wickets from 13 tests at 30 apiece, also won the Winsor Cup for first-class bowling, as well as test player of the year and the fan performance award for his Hobart effort.
But along the way there have been flat days, when he hasn't seemed to have all his gears in sync.
Southee's absence suddenly thrusts extra responsibility on the 22-year-old. His world ranking of No39 is 15 spots down on his best.
By comparison Southee is No19, Boult No47 while Martin, the country's third-highest wicket taker, remains head of the seam pack at No17, despite having missed four of New Zealand's last six tests.
Captain Brendon McCullum acknowledged that Southee does leave a sizeable hole.
"It's a big loss. Tim's been our No1 bowler in test cricket for the last little while, and also the one-dayers," he said.
"He's a real leader of our attack, even at a young age. He had a keen eye on this series to test himself out against some of the world's best test bowlers in Morne Morkel and Dale Steyn."
The plus side, which doesn't counterbalance the negative in this case, is offering an opening to another seamer. Left armer Wagner may get another opportunity, having been unwanted in the test setup since his debut in the two West Indies tests in August.
Boult is finding his feet, Martin has the wisdom, but Bracewell, with his aggressive instincts, bounce and ability to move the ball both ways off the seam, has the opportunity to reinforce why he has gathered those various gongs this year.
It will also be a good test of coach Mike Hesson and bowling specialist Shane Bond's abilities to have Bracewell zeroed into the job at hand.