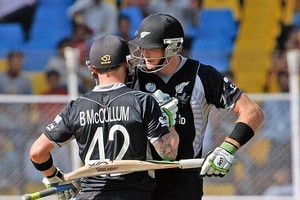 The Black Caps' sound performance in all aspects against Zimbabwe was just what the side needed to get their World Cup campaign back on track.
Their batting, bowling and fielding was all spot on and the 10 wicket win provided a good work out for them which should provide a much needed boost of confidence after a poor effort against Australia last week.
It wasn't just the size of the victory but the manner in which they won that impressed me most. Both the bowlers and batsmen, albeit only two of them, made the most out of their time in the middle and ironed out a few mistakes.
Over in India the more time you spend out in the middle the more accustomed you get to the conditions so it was a good blow out as far as what they needed to get out of it and they did it very well.
It's so easy when you play a minnow to just go out there and finish the game as quick as you can and you don't bat as well as you should.
They didn't scrap it out and reach the total seven wickets down, they played good cricket and won easily.
It's the top four batsmen that we need to stand up and play well for the upcoming matches especially further down into the tournament, that's why it was good that Brendon McCullum and Martin Guptill batted the whole time and actually got time under their belt and played nice cricket.
It would have been good if the middle order, who have lacked batting time, got a chance to bat but cricket isn't an exact science and you can't do what you want on some days. As long they keep working hard in the nets and concentrate on their game they'll be fine.
But the key over there is having your top four get a great start so you can get 300 plus scores. Having McCullum and Guptill put on the highest opening partnership of the tournament to date will certainly help that.
It seems like a trend in this tournament - one easy fixture follows a hard one and Pakistan on Tuesday will be a big challenge for the guys.
They just recently left our shores and the players should know each other very well and how they play. It's still early days in the tournament but this will be the one that lets the Black Caps know where their game is at.
They struggled at home against Pakistan and will be playing them in conditions that suit Pakistan more - so it will be a good measure for the guys against a team who have been in decent form in the tournament.
From a fan's perspective it's also nice to have a couple of so-called bigger games this weekend to see where the front-runners are at.
Looking ahead tonight I think Sri Lanka will hand Australia their first loss while the England - South Africa clash on Sunday will be a good game. They're both playing reasonable cricket at the moment and it will be a very close game but South Africa should win it.
It was great to see Ireland put a little spoke in the works earlier in the week by beating England. It's nice to see stories like that and they deserved the win after playing very well.
In group B the battle for the fourth spot is going to be a tight one and it will be interesting to see who sneaks through.
- HERALD ONLINE