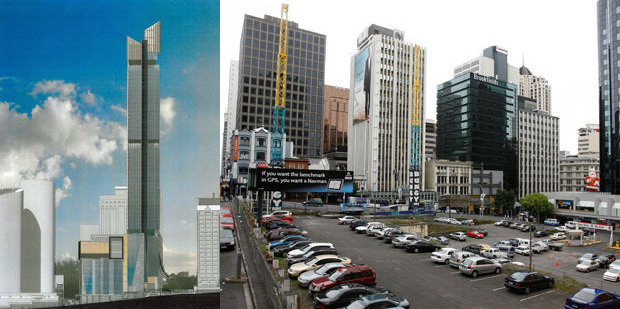 Building consent for New Zealand's tallest new skyscraper could be granted next year if all goes to plan.
A statement from Auckland Mayor Len Brown's office yesterday said resource consent had been granted for the 209m giant - only 119m shorter than the Sky Tower - and the target for building consent was next year, meaning the soaring shard could be completed by 2020.
However, the site has stood empty since the 1980s and nothing happened after a Korean businessman said he would build the taller Elliot Tower in time for Rugby World Cup 2011.
The statement from Mr Brown's office said planning commissioners had approved the tower "on one of central Auckland's longest-standing vacant lots".
NDG Auckland Centre, named for Shanghai-based New Development Group, would be an entertainment hub as well as an apartment giant. A hotel, shops, cinema, restaurants and residential units were planned for the site at 106-108 Albert St.
But news the block had the go-ahead sparked disquiet among the commercial real estate investment community. Colliers research manager Chris Dibble was yesterday fielding inquiries about whether it would have offices. A spokesman for the mayor's office said commercial offices were not in the plans.
No buildings have stood on the corner site since the 1980s when Chase Corporation demolished the Royal International Hotel to make way for a Farmers. The 1980s sharemarket crash ended those plans and carparking and a bungy jump have been using the site.
Mr Brown said the tower would transform the area and enhance his planned Central Rail Link.
"Alongside the Sky Tower, this will be a world-class development for Auckland that will create hundreds of new jobs, energise the CBD and boost Auckland's GDP, through a more than $350 million investment by NDG," he said. "It's also an example of the major commercial opportunities created by the City Rail Link project. To date the private sector has confirmed more than $1 billion of new investments along the proposed route, including Precinct Properties' downtown retail and office development ($300m+), the NZ International Convention Centre ($400m+) and Elliott Towers ($350m+)."
Mr Brown's office released a list of new projects, including Precinct Properties' plans to redevelop its Downtown Shopping Centre.