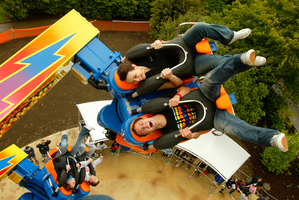 New Zealand Experience, the operator of Auckland's Rainbow's End theme park, says it expects to downgrade its full-year profit forecast on the back of lower-than-expected visitor numbers resulting from a major development taking place at the park.
The company, which has received a takeover offer from Wellington-based investment firm Rangatira, said it expected to lower its full-year net profit target to the range of $1.3 million to $1.4 million from the $1.4 million to $1.6 million previously given.
The updated target will be confirmed when New Zealand Experience reports its half-year result on February 21.
"Visitor levels have been lower than our own internal targets, primarily affected by greater than anticipated disruption to the operations from the substantial redevelopment undertaken to transform the Castle Land area into Kidz Kingdom," the company said.
"The full closure of this area was determined as the best means of achieving required completion targets."
New Zealand Experience said that although the short-term outcome of the closure was disappointing, the firm was confident Kidz Kingdom would provide a strong platform for growth.
The company said it did not expect the second half of its current financial year to be as strong as the prior corresponding period due to promotional costs associated with the April opening of Kidz Kingdom. Shares closed unchanged last night at 37c.