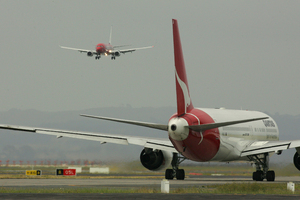 Shares in Qantas Airways soared as the national carrier confirmed it is in talks with a number of airlines about potential alliances, including Dubai-based Emirates.
Qantas said that making alliance partnerships stronger was one of the four pillars of the group's five-year strategy announced in August 2011.
Speculation about a possible partnership with Emirates, the world's largest airline, sent Qantas shares soaring A9.5c, or 9.6 per cent, higher at A$1.085 at 2.36pm local time in Australia.
They had earlier peaked at A$1.10 and were one of the most heavily traded stocks on the Australian exchange.
The Australian Financial Review reported that Qantas was working on a tie-up with Emirates that could boost Qantas' ailing international operations. A code-sharing deal would see Qantas flying to Dubai, and Emirates transferring passengers to Europe, the Middle East and Africa.
The report said Qantas was set to withdraw from its last remaining port in mainland Europe, Frankfurt, and route many of its London flights through Dubai.
- AAP