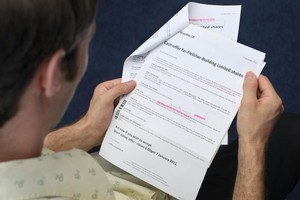 Investors face an increased threat from low-ball or predatory offers over the holiday period and the Financial Markets Authority is encouraging the public to seek advice before selling investments.
The market watchdog said Stock & Share Trading Company had requested copies of investor registers from Tower, Dorchester Pacific and other issuers and could look to make an unsolicited offer to securities holders.
Stock & Share Trading Company has a registered office in Adelaide, Australia.
After a request from the FMA, Stock & Share agreed to include a warning with any unsolicited offers it put into the marketplace.
The warning advises investors to talk to a financial adviser or sharebroker to find out what their investments are worth before selling.
A spokesperson for the authority said investors were at an increased risk from low-ball offers over the summer holidays, especially when they had bills or debt to pay off from Christmas.
The FMA also said VonWin Capital Management intended to make an offer to Irongate Property bondholders who had expressed interest in selling their financial instruments.
Irongate Property, one of the units of the collapsed St Laurence group, said in May it would not be able to meet bond payments and called in receivers.
The authority has asked VonWin Capital to include the warnings in the offers to Irongate bondholders.
Under legislation passed this year, the FMA can require those making unsolicited offers to display warnings with documents they send investors.
The watchdog used the powers in its first day of existence on May 1 against Christchurch property developer Bernard Whimp, who had been sending unsolicited offers to buy shares at below the market price.
In December last year, Whimp sent letters to mum-and-dad shareholders urging them to sell shares at up to 40 per cent less than they were worth on a "first come, first served" basis, encouraging them to "act now if you wish to accept".