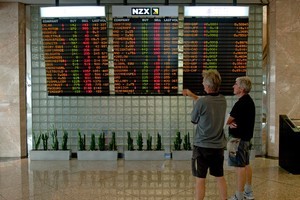 The New Zealand equity market's share of gross domestic product has shrunk to about a third of its Australian counterpart's, as its role in the provision of risk capital dwindles, underlining the need for new listings such as state-owned companies and Trade Me.
The equity market's share of GDP has declined to 31 per cent, from 56 per cent 15 years ago, according to a survey by Goldman Sachs & Partners.
In that time, the Australian stock market's share of that country's GDP has grown to 89 per cent from 68 per cent. In the U.S, the percentage is 89 per cent and for Canada 109 per cent.
"A declining role in the economy has meant market liquidity has suffered," Goldman Sachs says. Potential new floats are "necessary to reverse the negative feedback loop of declining supply that has been in play over the past decade."
The survey of 51 stocks shows foreign ownership of New Zealand equities was little changed in the June quarter at about 36 per cent. Local managed funds made the biggest gains, accounting for 22.3 per cent, equal to the portion owned by retail investors, and the highest reading since the survey was started in 1997.
The portion held by managed funds has climbed from 14 per cent in 1997 and reflects "strong managed funds inflow from KiwiSaver."
Total funds under management soared 63 per cent to $9.4 billion at June 30 from a year earlier, the survey shows. The amount invested in New Zealand equities by managed funds jumped 59 per cent to $900 million.
Foreign ownership of New Zealand equities slipped 0.2 points to 35.9 per cent, with Goldman Sachs saying such holdings are in a downward trend that is likely to continue, amid a lack of new listings and merger & acquisition activity.
The government's plan to target the partial sell-down of SOEs to domestic investors will also reduce total foreign ownership, the firm said.
Upcoming listings include eco-light bulb manufacturer Energy Mad Ltd, which is trying to raise $6 million in an initial public offering, and is expected to list on October 3.
Retirement village operators Vision Senior Living and Summerset are rumoured to list in the future, while Fairfax Media Group has flagged it will sell a partial stake in online auction site Trade Me Ltd.
Companies in the NZX 10 Index account for more than 75 per cent of overseas ownership.