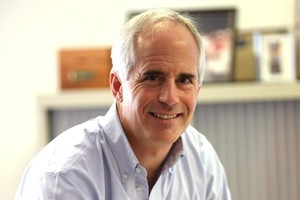 Dairy giant Fonterra is tipped to raise its payout to farmers today, just days after freezing wholesale domestic milk prices.
ANZ National Bank head of market economics Khoon Goh said Fonterra could announce an upward revision to their forecast dairy payout for this season sometime this week.
"That should be taken positively by the currency markets and could see the New Zealand dollar well supported," Goh said.
Fonterra has a board meeting today.
It raised its forecast payout for this season in December to $7.30-$7.40 per kg of milksolids before retentions, with a $7.40 payout based on stable production potentially worth about $9.5 billion.
Chairman Sir Henry van der Heyden said at the time the increased forecast milk price was based on international dairy prices remaining high further into the season.
Prices in Fonterra's bi-weekly online auction last week were pushed to the highest level since it was launched in July 2008, up 24 per cent since the start of December.
Fonterra's policy is to adjust forecasts by at least 30c - a rise of which could be worth about $386 million. The farmer co-operative last week said its consumer products division, Fonterra Brands, would freeze wholesale domestic milk prices for the rest of the year.
Chief executive Andrew Ferrier last week said global food prices were expected to remain strong.
"There has been a fundamental change in supply and demand for food internationally which has pushed prices to their current levels," he said.
"While these prices are good for food exports and the New Zealand economy, New Zealanders are feeling the effects of this in their shopping trolley."
Speculation about a payout lift boosted the New Zealand dollar yesterday.
It was at US76.35c last night, up from US76.01 on Friday.
The kiwi has weakened 2.2 per cent this year against the greenback amid a sluggish domestic recovery.
The Reserve Bank will release its first-quarter inflation expectations survey today.
- additional reporting by Bloomberg