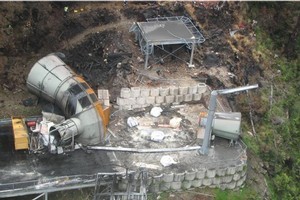 The company winding up Pike River Coal says closing the $2 billion mine may be its only option.
PricewaterhouseCoopers partner John Fisk said the receivers had to respect the police conclusion that the mine was unsafe for re-entry.
"If it's too unsafe to go in, then you can't do anything with it, so the ultimate outcome might be putting a fence around the place and stopping people being able to get in.
"I would hope that's not the case, because ... the West Coast needs an operating mine that can employ people and contribute to the taxpayer."
If the mine was not reopened, the receivers would assess Pike River's other assets to repay creditors.
Mr Fisk said they would know on Monday what their next step would be.
"It's unrealistic to have a black and white decision [about the future of the mine] by then, but we'll have a list of options to put forward for discussion by 5 o'clock on Monday."
Mr Fisk this morning told Newstalk ZB receivers had $10 million in the bank but had to consider the best way of spending that money and what to do with such a valuable resource worth billions of dollars.
He said that included finding out how much it would take to return the mine to an operational state.
"No matter what happens, if it is possible and we are realistic about this, the chances of it being possible might be very low, but we obviously want to explore that."
The receivers were obliged to get the best price they could for the assets, he said.
- NZHERALD STAFF and NZPA