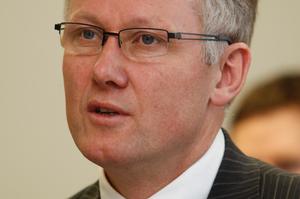 The boss of state-owned Kiwibank wants people to be compelled to join KiwiSaver, with individual contributions rising gradually over the next decade or two to reach 10 per cent of income.
With employers also providing 10 per cent, it would take savings to 20 per cent, which was recognised as the level of savings needed throughout a working career in order to have enough in retirement, Kiwibank chief executive Sam Knowles said today.
He made the call at the launch of Kiwibank's own KiwiSaver scheme, saying there was a need for a law change to require full disclosure of KiwiSaver fund expenses and that more incentives were needed for savings.
"There's still some argument about it, but it is certainly our belief, and I think most commentators' belief, that New Zealand has a savings problem. Being indebted to the world is not a smart place to be long term, particularly when you have a financial crisis," Mr Knowles said.
The problem was largely around the unbalanced approach to retirement savings in place since the 1970s.
"If we have compulsory taxation for retirement, we need compulsory savings. That's part of the balance of individual responsibility," Mr Knowles said.
Alternatively, the country could go the other way to individual responsibility for everything, but no one wanted that.
He did not think the level of leadership was coming from the Government on how to reach a 20 per cent savings rate.
"I think the Government needs to step up and present that vision, and then work out what's a sensible way of stepping towards that vision," Mr Knowles said.
Asked whether people might be better off deciding what to do with their own money, he said they were best off putting their money with reputable organisations they could trust, with trust based on their experience with that organisation.
"You've got a fundamental savings problem in New Zealand, and individuals are not going to address it," he said.
"That's why we have governments, to make calls about balanced policies, and a balanced policy is about creating the right incentives for people to save."
Chief Executive of the Employers and Manufacturers Association Alasdair Thompson told Newstalk ZB that while employers were becoming accustomed to the idea of compulsory superannuation contributions, compelling workers to save 10 percent of their income would be impossible.

Mr Thompson said there needs to be more of a balance between saving and spending.

"The purpose of saving is to spread income out across an entire lifetime."

He said an employee putting aside 10 percent of their income would be "over-saving for retirement".

Mr Knowles also discounted any suggestions that the global financial crisis of the past few years may have changed the way people should go about investing.
"It's very easy to look at what's happening in markets today, and saying that somehow changes the game. It doesn't change the game. If you want to have money in your retirement you've got to invest in long term investments and you've got to invest regularly over your life," he said.
While KiwiSaver was a fundamentally sound product, there were issues for people in knowing what they were paying for, and in the scope for providers to manipulate returns.
In its KiwiSaver scheme, Kiwibank had particularly focused on transparency and making sure members knew exactly what they were paying for, Mr Knowles said.
In the Kiwibank scheme management of the money was being outsourced to proven money managers.
At the start most of the scheme's fund management was being provided by AMP Capital, with Kiwibank expecting to add others over time.
Under Kiwibank's contract with AMP Capital, Kiwibank paid a certain rate for fund management which covered all AMP Capital's costs and knew exactly what it paid, he said.
"What we're doing is very easy to do, is to set one rate and have that cover everything other than brokerage, which is the one variable."
But under the current regime, plenty of scope existed to manipulate returns that was perfectly legal.
"There are things that are hidden that are going on that people don't know about. And we don't think that's right," Mr Knowles said.
"It probably does reflect the morality of the financial services industry, which is, you know, do what's legal, not do what's right.
"So we think there is a need, if you like, for some regulation and some legal change in here that requires full disclosure of the true expenses that are paid in funds."
He was not saying the fund providers were doing anything wrong, rather that the current regime should require significantly greater disclosure so customers knew what they were getting, Mr Knowles said.
As well as the approach to retirement savings being unbalanced, policy on taxation of savings was also unbalanced.
People were taxed on all their returns on savings, not just the real returns.
For example, if someone was earning 5 per cent on a term deposit when inflation was 3 per cent, their real return was 2 per cent, so the deposit holder should be paying tax only on that 2 per cent, Mr Knowles said.
- NZPA and NZ Herald staff