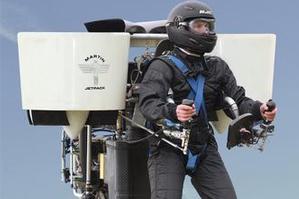 The manufacturers of a James Bond-type personal flying machine are negotiating a multi-million dollar deal with a foreign government to use them in civil emergencies.
Christchurch-based Martin Aircraft Company has signed a non-binding agreement with the unnamed government to supply at least 500 jetpacks a year for search and rescue purposes, The Press reported.
Chief executive Richard Lauder said details of which country signed up to the deal would be made public when the final documents were signed.
"It's a country that wants jetpacks for access in civil emergencies," he said.
He thought the joint venture was supplying the jetpacks to the government in about 12 months.
Mr Lauder said Martin Aircraft had the ability to include remote control flying of the jetpack, which could mean an unmanned jetpack could be flown across a river to retrieve someone in an emergency.
Meanwhile, one of two auctions for being a jetpack test flier for a day has drawn one bid of US$30,000 (NZ$42,577) on eBay.
There have been 152 bids on the other auction on Trade Me, with the highest $3020. The auctions close on Thursday.
- NZPA